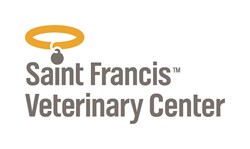 There is no greater honor for a specialty hospital than to be recognized by AAHA as one of the leading practices in North America
Woolwich Township, NJ (PRWEB) January 16, 2014
Saint Francis Veterinary Center was selected as a finalist for the prestigious Referral Practice of the Year Award given each year by the American Animal Hospital Association (AAHA).
The AAHA Referral Practice of the Year honor is awarded annually to only one hospital out of more than 27,000 veterinary practices in North America. Saint Francis earned AAHA evaluation scores of between 90% and 98% on key categories such as Surgery, Ophthalmology, Internal Medicine, Cardiology, Radiology and Canine/Feline Specialty.
"AAHA believes that the success of a veterinary practice depends on the entire team working together to provide excellent care for pets and their people," said Mike Cavanaugh, DVM, DABVP, AAHA Chief Executive Officer. "All of our finalists for the AAHA Referral Practice of the Year Award are staffed by high-performing veterinary teams who demonstrate a passionate commitment to veterinary excellence."
Since AAHA-accredited practices are known for overall medical and service excellence, the award is highly competitive. Finalists for the award represent the most accomplished veterinary specialty hospitals in the United States and Canada.
"There is no greater honor for a specialty hospital than to be recognized by AAHA as one of the leading practices in North America," said Dr. Mark Magazu, Chairman of Saint Francis Veterinary Center of South Jersey. "This is a testament to our specialists and support staff, who work each day to provide our patients with advanced medical care."
The 2014 Referral Practice of the Year Award will be presented at the AAHA 2014 Annual Conference which takes place in Nashville from March 20 to 23.
About Saint Francis Veterinary Center
Saint Francis Veterinary Center is recognized by the American Animal Hospital Association as an Accredited Referral practice, a designation earned by fewer than 250 of North America's 27,000 animal hospitals. Saint Francis is the only AAHA Accredited Referral hospital in southern New Jersey. Based in Woolwich Township, N.J. the award winning center is home to Board Certified specialists and experienced clinicians specializing in 24/7 emergency and critical care, surgery, internal medicine, cardiology, radiology, ophthalmology, physical rehabilitation, and nuclear medicine. For more information please visit http://www.saintfrancis.org.
About AAHA
Established in 1933, the American Animal Hospital Association is the only organization that accredits veterinary practices throughout the U.S. and Canada for dedication to high standards of veterinary care. Approximately 3,200 AAHA-accredited general practices, and fewer than 259 referral practices, pass regular reviews of AAHA's stringent accreditation standards that cover patient care, client service and medical protocols. For pet care information or referral to an AAHA-accredited practice, visit HealthyPet.com.