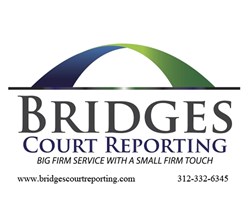 "Bridges has a great reputation and eDepoze fits nicely with their existing services." Thadd Hale, COO of eDepoze
Irvine, CA (PRWEB) January 16, 2014
eDepoze, LLC has added Bridges Court Reporting as a reseller partner for its recently released cloud based deposition software. The new selling point will provide better access for attorneys who want to utilize the software that enables paperless depositions and electronic sharing of exhibits.
Bridges Court Reporting will be selling the software that combines a cloud-based repository with an iPad interface to provide an electronic deposition while still maintaining the benefits of the tried-and-true paper deposition exhibit process.
"We are pleased to announce the addition of Bridges Court Reporting to the eDepoze reseller program," said Thadd Hale COO of eDepoze. "Bridges has a great reputation and eDepoze fits nicely with their existing services."
With eDepoze attorneys can replace stacks or boxes of paper exhibits with an iPad. They can introduce and share exhibits electronically using the eDepoze app and everyone participating in the deposition can receive exhibits as they are introduced. This can be done either locally or from a remote location while still allowing all participants to review and mark their own copies of the exhibits.
"Bridges Court Reporting is excited to team up with eDepoze to provide this cutting edge service for our clients," said Debbie Bridges, President of Bridges Court Reporting. "We strive to provide value for our clients, adding eDepoze to our menu of services gives them another tool to increase their productivity and manage voluminous documents."
The software utilizes an easy to use iPad interface that requires little technical know-how. Key features of eDepoze include:

Access to documents anytime and anywhere
Attend depositions remotely
Paperless depositions, using electronic documents as exhibits
Instant access to official exhibits at no additional cost
No printing, copying or shipping exhibits
Ability to annotate personal copies of exhibits
Secure, cloud-based environment
Simple to use, intuitive iPad interface
To learn more about eDepoze, or to schedule a demonstration, please visit eDepoze.com.
About Bridges Court Reporting:
Bridges Court Reporting is committed to providing high quality work and superior customer service in all aspects of our business. Our court reporters are trained professionals and have experience to cover most complex cases. We provide all of the services you need under one roof. We have formed trusted alliances with affiliate agencies which gives us the ability to schedule professional and dependable services nationwide. We offer our clients groundbreaking technology which provides our clients with practical and economical solutions for managing their cases. Our staff provides exceptional customer services with unwavering attention to detail. No case is too small or too large. Get the personal service you deserve at Bridges Court Reporting.
About eDepoze, LLC :
eDepoze, LLC is a cloud computing company whose flagship product, eDepoze, is a powerful, yet easy-to-use cloud-based deposition software system—with an iPad interface—that that delivers the convenience, efficiency and cost-effectiveness of a paperless deposition while mirroring the tried-and-true deposition process that litigators have used for decades. eDepoze, LLC is headquartered in Irvine, CA. For more information, please visit eDepoze.com.