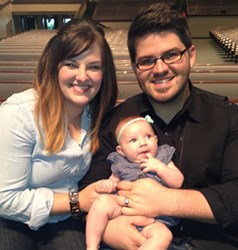 Lynchburg, VA (PRWEB) January 14, 2014
Liberty University alumnus Jordan Grizzard ('09) will be featured in the two-night season 13 premiere of "American Idol," Jan. 15-16 at 7 p.m. EST on Fox.
While at Liberty, Grizzard sang with the Sounds of Liberty, a flagship group of Liberty's Department of Ministry Teams, for two years. He also sang with LU Praise, a concert choir in the Center for Music & Worship. (Liberty's Center for Music & Worship is part of the Liberty University School of Music, now the nation's seventh largest school of music.)
"Jordan was a gifted singer, a natural communicator, and strong leader. He represented Liberty University with excellence," said Scott Bullman, director of Ministry Teams. "I'm not surprised by his success. He is a winner both on and off the platform."
Grizzard's audition video was posted early on YouTube and shows an enthusiastic reaction from the show's three celebrity judges: Keith Urban, Jennifer Lopez, and Harry Connick, Jr.
"The nerves were (tense) for sure but (the judges) are very kind. Those three (judges) this year … they made the process and the experience much less formal. They calmed my nerves quite a bit," Grizzard said.
Grizzard, who auditioned in Austin, Texas, said he went through four screenings in front of music and executive producers before he got the chance to perform for the judges. The process took several hours but he said it would have taken about seven hours longer if he did not hold a "dream ticket," which gave him a pass to the front of the line. He earned the ticket by winning the American Idol Experience when he and his wife visited Walt Disney World in Orlando, Fla., last year.
Currently, Grizzard serves as an associate worship pastor at the Plano, Texas, campus of Prestonwood Baptist Church. He and his wife, Kayla (who graduated from Liberty in 2011 with a degree in theater performance) have an 8-month-old daughter, Jozlyn.
The couple both have a heart for the art community and plan to minister full time in New York City one day. Grizzard hopes to use whatever platform the Lord gives him — including whatever happens with the TV show — as a way to make Christ's name known.
Grizzard said his time at Liberty was key in helping him discover his calling and mature in his faith.
"Liberty was probably some of the most crucial years in helping me define what I wanted to do and who I wanted to be, not only as a worship leader but as a believer," he said. "Through what I learned there and (choosing) to dive into the Word, it challenged me to step out of what I was always taught growing up and really develop a theology, a philosophy of life (and) of Christianity."
He said the university's faculty and staff provided mentorship and leadership, which was important in his development.
"Liberty is great at being very intentional in what they teach and what they put in front of you," Grizzard said. "Each of my professors had been in the field of worship leadership for 15-20 years. They had been through anything that could come up in your world. Musically they push you to practice, to be the best for the Lord. That was huge — there was never a mediocre moment there … there is no other option but to be the best for the Lord."
About Liberty University
Liberty University, founded in 1971, is the largest private, nonprofit university in the nation, the largest university in Virginia, and the largest Christian university in the world. More than 100,000 students attend classes on its 7,000-acre residential campus and study in its thriving online education program.