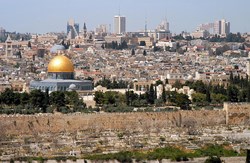 Travel can be one of the most rewarding forms of introspection.
(PRWEB UK) 15 January 2014
A very wise man called Lawrence Durrell once said, "Travel can be one of the most rewarding forms of introspection." Well, it couldn't have been better put. Travel isn't just an escape. It isn't about running away from the mundane or packing up and leaving things behind. It is about finding new things.
It is perhaps due to this that travel goes hand in glove with spirituality. This theme of finding things has brought together travel and spirituality since ancient times. So JoGuru gives you suggestions of mystical places to travel to, to quench your spiritual thirst.
There are those spiritual places that everyone has heard of…
Jerusalem, which holds so much importance for all three Abrahamic religions; Islam, Christianity and Judaism is a really magical place. The very pull it has on believers from all over the world even to this day is testament to the fact that there is a very strong spiritual lure to it. The whole area has an eerily primeval feel to it that is worth experiencing.
Bodhgaya in Bihar, India, is no different. This amazing place is where the Buddha achieved enlightenment. Since it is a huge landmark in Buddhist history, followers of Buddhism as well as tourists seek out this destination in search of its spiritual potential. In fact, there is no dearth of such places in the country. The ancient Jain Architecture is incredibly thought-provoking while the older Hindu temples set atop daunting hills provide a very amazing vantage point and a philosophical perspective to the world.
There are a few places that one may not pin point as mystical but the very experience of visiting them is surreal.
The Petroglyphs in Canada have this surreal experience on offer. The Petroglyphs were carved by the old Iroquoian community and the designs and carvings have given rise to a lot of speculation. It is possible that the ancients believed that the rock was sacred but why they believed this is unclear. One thing is for certain, these massive illustrations make it an interesting tourist destination for sure.
There is a similar appeal to the Stonehenge in Wiltshire, England. People who look at this odd and unexpected ancient feat of architecture can't help but ask, "What's the meaning of Stonehenge?" Why did people decide to raise giant rocks in this formation all that while ago? Was it a message? Was it a warning? No one knows. It makes one realize that we don't have the simplest of answers, and this is precisely what makes this place spiritual.
There are those places in the world that force you to contemplate just by virtue of their natural, unearthly beauty.
Many people are unaware that the Uluru Ayers Rock in Australia is a sacred site for the native Anangu tribe but it makes sense. This red and rugged desert and its magnificent rock represent the power of constant change. Any traveler will be able to see the spiritual sensationof thislone giant that sits in the middle of the dessert, in its mysterious and colossal glory.
The Meiji Shrine in Tokyo which is set in the midst of a dense and dark forest is another place that is as stunning as it is spiritual. The location, the emerald green trees and the shrine engulfed amid make it a spectacular experience. If you stay in the area for a few days you will realize the meditative environment it creates.
Perhaps the most striking example of the bond between spirituality and travel is the good old pilgrimage.
Pilgrimages test the faith of the devotee giving them tremendous cultural importance.
Some of the most interesting, like the Camino De Santiago in Spain illustrate this beautifully. This road that leads up to the Cathedral of Santiago de Compostella in Spain begins at the foothills of the French Pyrenees and has an astonishing length of 719 kilometers that devotees traverse on foot. The fact that the place has an ever increasing number of travelers is quite fascinating. If you aren't up for making the whole journey, you can always walk a short distance along this sacred pathway and the amazing monuments and churches built along the way make it hard not to try it at least once.
While there are several of these around the world, isn't it true that every road is inspiring, every journey is a pilgrimage (made for each person's own reasons) and each one of us is a pilgrim?
So let's hope that this list inspires people to explore, think, wander and discover. Because, one never knows where one might find oneself.