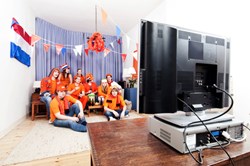 Renting the big screen for the big game is becoming the busiest week in the rent to own industry.
Austin, TX (PRWEB) January 15, 2014
Super Bowl Sundays mean many things for Americans. According to APRO, the national trade association for the rent to own industry, it means one of the busiest weekends of the year with thousands of households renting the big screen HD or Plasma TV for the Super Bowl party.
Many Americans are realizing that rent to own stores are also rental stores that will deliver, set up and pick up the Big Screen TV making it convenient and attractive for the Super Bowl party. Because rent to own stores do not require any legal obligation beyond one week or month, renting the big screen for the big game is becoming the busiest weeks in the rent to own industry.
Renting a 60" TV for a week can cost anywhere from $35 -$50. Some rent to own stores only do monthly or have a minimum monthly rental so monthly rentals for a 60" Flat Panel TV can cost $120 to $180 per month. Many TV watching fans split the costs for the party making the value better. And, many customers don't mind having a 60" HD TV to watch for the entire month.
Most rent to own stores require a photo ID, work and home address and three to four personal references. They do not require credit or do a credit check which is unique to rent to own stores.
Because renting a big screen for Super Bowl weekend is popular, rent to own employees suggest to rent for the month and begin before the NFL Championship games that are played two weeks prior to the Super Bowl. The consumer gets the HD TV for the Championship games, the Super Bowl and ensures that they will have a TV for the game and not all rented out. This year's Super Bowl is on February 2nd beginning at 5:30 PM (CT).
ShopRTO recommends to call ahead and compare different rent to own store's prices and policies. Many rent to own stores offer special deals during January and February which could dramatically reduce the rental price.
About ShopRTO.com:
ShopRTO provides affordable home decorating and lifestyle tips for Americans and when rent to own may be right for their home shopping choices.