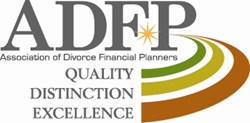 East Northport, NY (PRWEB) January 23, 2014
The Association of Divorce Financial Planners (ADFP) announces that it has named associate member Lori Lustberg as editor-in-chief for the association's monthly newsletter, ADFP News. The newsletter can be found on the ADFP website, http://www.DivorceandFinance.org.
"ADFP is fortunate to have Lori as the editor for ADFP News," said Andrew Samalin, president of the ADFP. "Her skill set as a Certified Divorce Financial Analyst (CDFA), mediator and lawyer will allow her to bring the industry's most relevant topics and issues to ADFP members."
For her part, Lori is honored to have been named as the ADFP News editor-in-chief. "One of the goals of the ADFP is to unify the divorce financial planning profession," says Lori. "I see the ADFP News as a member forum that will help move the association toward that goal."
In her practice, Lori Lustberg, Esq. LLC, headquartered in Shelburne, Vermont, Lori helps individuals and couples navigate the financial, emotional and legal issues of divorce. While not a divorce attorney, Lori has a solid background in and understanding of family law. She also provides litigation support services to divorce attorneys, as well as non-litigation support services to mediators.
In addition to her membership in the Association of Divorce Financial Planners, Lori is a member of the American Bar Association, Vermont Bar Association, Association for Conflict Resolution and the Institute for Divorce Financial Analysts (IDFA).
The ADFP is an interdisciplinary association of professionals who research and analyze personal and business financial issues, as well as tax implications, related to divorce. The association develops outreach programs, and training and continuing education opportunities for financial practitioners, allied divorce professionals and the general public. The organization plays a key role in policy making regarding divorce financial issues. The ADFP holds its members to high standards in professional and ethical protocols in the U.S., Canada and other countries. Comprehensive information on the ADFP can be found at http://www.DivorceandFinance.org.