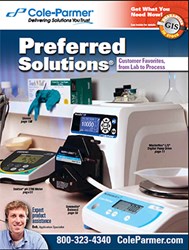 Vernon Hills, IL (PRWEB) January 15, 2014
Look inside the new Preferred Solutions® catalog from Cole-Parmer to find hard-working items for the lab, from fluid handling to instruments to supplies. Many items are designated as Guaranteed-in-Stock (GIS)—ready to ship when you order.
Preferred Solutions features a full selection of Masterflex® Peristaltic Pumps, from the L/S® model for precise flow control and dispensing to I/P® for better protection from industrial hazards to C/L® for low flow applications to B/T® for batch transfers at high flow rates. Several Oakton® pH Meters are also highlighted for their reliability and quality, from pocket units to benchtop meters. Balances, centrifuges, thermometers, and other instruments from leading brands also offer customers the sought-after functionality that enhances efficiency in the lab.
To request a free copy of Preferred Solutions, call 800-323-4340 or visit ColeParmer.com/20769.
Cole-Parmer has been a leading global source of laboratory and industrial fluid handling products, instrumentation, equipment, and supplies since 1955. Our product lines, including popular brand names such as Masterflex®, Oakton®, and more, are sold through company-owned customer channel outlets and a strong network of international dealers. We also feature an ISO-17025-accredited metrology lab for instrument calibration and repair. Cole-Parmer responds with excellence to customer needs, and offers application expertise and technical support. For more information, contact Cole-Parmer, 625 East Bunker Court, Vernon Hills, IL 60061. In the US, call 800-323-4340. International customers, call 847-549-7600. Visit us at ColeParmer.com.