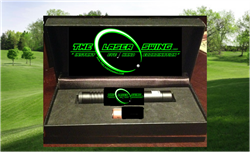 Instant Eye / Hand Coordination
Wilmington, DE (PRWEB) January 16, 2014
The Laser Swing is a state-of-the-art green laser that is visible in direct sunlight and can be easily attached to any golf club. Hitting the ball with The Laser Swing gives the golfer instant bio feedback on the golf course creating muscle memory for a laser straight golf shot. The innovative idea is a game changer for those players suffering from the tragic hooks and painful slices the game of golf can bring especially when it's tee time.
The PGA Merchandise Show plays host to the biggest week of golf business with 1,100+ interactive exhibits by leading golf companies and brands, more than 41,000 of the most important people in golf and representation from all 50 U.S. states and 74 countries. The PGA Merchandise Show is organized by PGA Worldwide Golf Exhibitions in partnership with The PGA of America, Experts in the Game and Business of Golf. The Show serves as a global platform for PGA Professionals, industry leaders, top manufacturers, and golf organizations to grow the business, participation and interest in golf.
PGA Show Days & Conference: January 22: January 23: January 24:
http://www.thelaserswing.com Booth #387
The Laser Swing is a shock-resistant and water-resistant training aid that attaches to the shaft of any golf club and the green laser beam instantly shows the exact linear direction when hitting the golf ball from the tee to in the hole.
It is a scientifically proven fact that biofeedback is the most effective and simplest way to learn and achieve Muscle Memory Motor Skills, and the skills of a golf swing require correct repetitious movement to create perfect muscle memory.
Within three seconds of the golf swing, The Laser Swing will show the correct takeaway and follow through at the time impact on the golf ball. In this biofeedback process, the eyes send a signal to the brain which in turn sends a signal to the body's muscle instantly creating muscle memory. The Laser Swing allows a golfer to adjust the golf swing learning in real-time.
Without The Laser Swing, golfers are at the mercy of their own ability to re-create muscle memory. The Laser Swing allows anyone to instantly adjust their swing, by the most effective and simplest way to learn without the use of verbal instructions, watching video playback or reading instructions.
The muscle memory achieved by "The Laser Swing" requires little effort on the player's part as compared to the labor intensive use of most golf training aids or devices.
Biofeedback is a proven theory and now The Laser Swing successfully brings this proven training theory to the sport of golf.
The Laser Swing LLC located in Wilmington, Delaware creates sport & health training aids