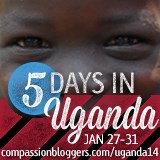 The firsthand accounts of these talented bloggers have moved thousands of readers past skepticism to generosity.
Colorado Springs, CO (PRWEB) January 15, 2014
On Jan. 27, five popular bloggers will launch a blog tour with Compassion International that will highlight their experience visiting some of the world's poorest and most-vulnerable children in Uganda.
Daily visits to Compassion International child development centers and other areas of great need in Uganda will allow these bloggers to write blog updates and upload photos and videos from their own perspective on topics surrounding poverty in Uganda.
Trip leaders, Wess Stafford, Compassion International president emeritus, and Shaun Groves (blogging at shaungroves.com), Christian singer/songwriter, speaker and blogger, will lead the following bloggers on the tour:

Emily Freeman, author of chattingatthesky.com
Myquillyn Smith, author of thenester.com
Jeff Goins, author of goinswriter.com
Joy Wilson, author of joythebaker.com
"For five years Compassion International has been inviting bloggers to see our ministry to children for themselves and write honestly about what they experience," said Groves. "The firsthand accounts of these talented bloggers have moved thousands of readers past skepticism to generosity. Their pictures put faces on statistics. Their words bring conversations across oceans and into our living rooms. They make poverty and hope real for people who will never get to see Compassion's ministry for themselves. More than 6,000 children have been sponsored because of the efforts of Compassion Bloggers."
Readers can follow the Uganda blog tour at CompassionBloggers.com/Uganda14 from Jan. 27-31.
Compassion International is the world's leading authority in child sponsorship. Compassion revolutionized the fight against global poverty by equipping the Church to develop children out of poverty to become responsible and fulfilled Christian adults. It is the only child sponsorship program to be validated through independent, empirical research. Today, Compassion partners with more than 6,000 Christian churches in 26 countries to release more than 1.4 million babies, children and students from poverty in Jesus' name. Compassion has been awarded the highest rating for financial stewardship and transparency for 12 consecutive years by Charity Navigator, America's largest charity evaluator. For more information on the ministry, visit compassion.com or follow on Twitter at @compassion.