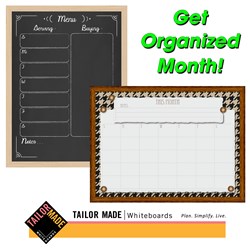 Arvada, CO (PRWEB) January 16, 2014
Tailor Made Whiteboards, innovator of customized and personalized dry-erase boards, celebrates "Get Organized Month" this January. Tailor Made is committed to organization, and its line of custom whiteboards for home use includes organizational tools such as Menu Planners, Calendars, and Chore Boards to help organize the activities of hectic households.
"Get Organized Month" has been recognized every January since 2005, and is sponsored by the National Association of Professional Organizers (NAPO). Both NAPO and Tailor Made Whiteboards take time every January to recognize the benefits an organized household can have, including reduced stress and anxiety and better time management. January is also the perfect time to spotlight organizational tools like Tailor Made Whiteboards, as one of the most common New Year's resolutions is "get organized," and it was the second most popular resolution for Americans in 2014.
"Tailor Made Whiteboards is committed to making beautiful and functional organizational tools for busy families," says Becky Roche, Marketing Manager for Tailor Made Whiteboards. "'Get Organized Month is a wonderful time for people to make resolutions, and Tailor Made is please to be able to help individuals meet their goals."
Tailor Made Whiteboards has been producing organizational dry erase boards since 2012, and currently has over 70 unique designs for its whiteboard Calendars, Kid's Chore Charts, and Menu Planners. The company invented the Quick Change whiteboard frame, allowing users to change their whiteboard graphic and function quickly and easily. This allows for years of continued use with only one whiteboard purchase, making being organized easier and less expensive than ever before.
###
Tailor Made Whiteboards makes high-quality dry erase boards to organize the activities of hectic households. The company's whiteboard Calendars, Chore Boards, and Menu Planners can be personalized to match any home's unique décor, and can be easily changed and updated over many years of use without ever buying a new one. All the company's products are built in the USA and guaranteed to wipe clean and remain stain-free over many years of use. For more information, call 1-888-280-9494 or visit http://www.tailormadewhiteboards.com.