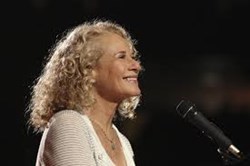 Music touches people in a way few things do.
Rhinebeck, NY (PRWEB) January 14, 2014
Topricin Pain Relief and Healing Cream has been selected to be featured during the fund-raising silent auction at the 24th annual MusiCares Tribute Gala on January 24th honoring renowned singer/songwriter Carole King. The recipient of four Grammy Awards, Ms. King has been designated as the 2014 MusiCares' Person of the Year in recognition of her extraordinary creative accomplishments as well as her significant charitable work, which includes an impressive array of philanthropic activities. In addition to her dynamic musical career, King is actively involved with environmental organizations in support of forest ecosystem protection as well as a broad range of political and social causes.
One of the music industry's most prestigious and glamorous events held during GRAMMY week , the MusiCares Person of the Year Tribute Gala takes place two days before the 56th Annual GRAMMY Awards telecast (Sunday, Jan. 26, 2014, broadcast live on the CBS Television Network). Proceeds from the benefit gala dinner and concert will provide essential support for MusiCares, which ensures that individuals in the music industry have a place to turn in times of financial, medical and personal need.
"We are honored to celebrate Carole King as the 2014 MusiCares Person of the Year," says Neil Portnow, President/CEO of the MusiCares Foundation and The Recording Academy. "The recipient must be somebody who in their own way has exhibited that they have an interest in philanthropy, giving back, and who has a great heart. When you look at those criteria, it would be hard to think of anyone more deserving than Carole."
The 2014 MusiCares gala—which will be hosted by Jimmy Kimmel—features a cocktail reception, silent auction, dinner, award presentation, and a star-studded tribute concert. The evening program includes performances by Jakob Dylan, Amy Grant, Alicia Keys, Lady Gaga, Jason Mraz, Jennifer Nettles, Pink, James Taylor, Steven Tyler, will.i.am, Gloria Estefan, Jesse & Joy; Miguel and Train, women from 20 Feet from Stardom: Merry Clayton, Lisa Fischer, Judith Hill, and Darlene Love; and Sara Bareilles, Louise Goffin, Martina McBride, and Leah McFall. Ms. King will also take the stage. Composer and arranger Robbie Kondor serves as the evening's musical director.
Ms. King—who says "'Music touches people in a way few things do'—has enjoyed a long and impressive musical career. She wrote her first hit at the age of 17 ("Will You Love Me Tomorrow," recorded by The Shirelles), and has seen more than 100 of her songs become hits, sung by herself as well as other renowned artists. Ms. King has worked with numerous musical talents, including her long-time collaborator and friend James Taylor, and created one of the best-selling albums of all time (1971's Tapestry). In 2013 she received the Lifetime Achievement Award from the Recording Academy and became the first woman to receive the Library of Congress Gershwin Prize for Popular Song, awarded by President Obama in an event at the White House. In 2012, Ms. King published her memoir, A Natural Woman, and in January 2014 a musical based on her life and song, "Beautiful," opened on Broadway.
Topical BioMedics has provided a "Remedies for Your Extremities" gift basket filled with various sizes of Topricin Pain Relief and Healing Cream and Topricin Foot Therapy Cream, as well as a Women's Luxury Foot Retreat Gift Set and a Men's Active Lifestyle Gift Set.
Topricin's soothing natural biomedicine formulas work with the body to safely and effectively help heal the damage that is causing pain. The products are patented for the treatment of pain associated with neuropathy and fibromyalgia, and are free of side effects, grease, and odor, chemicals, parabens, and petroleum—making them safe for the entire family.
Many artists favor Topricin for treating the aches and pains that come from the physical demands of performing and being on the road. Beyonce, Usher, Garland Jeffries, and Earth Wind & Fire all have requested Topricin on tour, and Clarence Clemons—a prominent member of Bruce Springsteen's E Street Band who played tenor sax--was a big fan of Topricin for many years prior to his passing.
"I greatly admire Carole King and have enjoyed her music ever since she began her illustrious career," says Lou Paradise, Topical BioMedics' president and chief of research. "We are proud to honor her and support MusiCares in their important service to artists in need."
About MusiCares
MusiCares provides a safety net of critical assistance for music people in times of need. MusiCares' services and resources cover a wide range of financial, medical and personal emergencies, and each case is treated with integrity and confidentiality. MusiCares also focuses the resources and attention of the music industry on human service issues that directly impact the health and welfare of the music community. http://www.grammy.org/musicares
About Topical BioMedics, Inc.
Topical BioMedics is the research and development leader in topical patented natural biomedicines for pain relief. The company's flagship product, Topricin® Pain Relief and Healing Cream, was introduced in 1994 and is now a leading natural therapeutic brand. A combination biomedicine formula, Topricin has been awarded a patent for the treatment of pain associated with fibromyalgia and neuropathy and was selected to be among the Top 100 Green Products of 2012 by Healthy Holistic Living.
The Topricin family of natural healing products also includes Topricin Foot Therapy Cream, specially formulated to treat painful foot and ankle issues/conditions/injuries, and Topricin for Children, which received the Parent Tested Parent Approved Seal of Approval (with 5% of sales donated to pediatric cancer foundations). Made in the U.S.A., all Topricin products are federally-regulated over-the-counter medicines with no known side effects, no parabens, petroleum, or other harsh chemicals, no grease, and no odor.
Topricin is available in pharmacies, natural food stores, and retailers nationwide, including Whole Foods, The Vitamin Shoppe, Fred Meyer, Wegmans, CVS (Foot Care Section), Walgreens (Diabetic Section) and other fine stores, as well as directly from the company.
For more information visit http://www.topricin.com
###