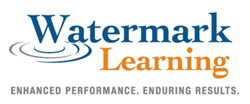 We are excited to have Vicki James join the Watermark Learning team.
Minneapolis, MN (PRWEB) January 15, 2014
Watermark Learning, a leading global provider of Business Analysis, Project Management, and Business Process Management training, has named Vicki James, PMP, CBAP, to the position of Director of Business Analysis. James joins Watermark Learning with 15 years' experience in the public and private sectors as a project manager, business analyst, author, and independent industry consultant and trainer.
Her responsibilities will include developing and maintaining Watermark Learning's Business Analysis Training programs and serving as an instructor for both live in-person and virtual online classes. James will continue to work from her office in Seattle, Washington.
"We are excited to have Vicki James join the Watermark Learning team," said Chris Anderson, Watermark Learning's Vice President of Sales and Delivery. "She will be instrumental in continuing to build and maintain our Business Analysis Training as the best-in-class program to organizations worldwide."
"Vicki James' experience and reputation in her field are true assets to Watermark Learning as we continue to move forward and expand our educational programs to provide increased value to our students and clients," added Elizabeth Larson, CEO of Watermark Learning. "Vicki's broad expertise will be appreciated by our customers who need business analysis, project and program management, and Agile training solutions," Larson notes.
Most recently, James served as an independent consultant providing project management and business analysis services to companies, including Microsoft Corporation. Prior to that, she worked at CodeSmart, Inc. delivering consulting services to their clients and also spent 11-years in the public sector successfully delivering projects to support governmental operations.
James received her PMP® Certification from the Project Management Institute (PMI®) in 2005, and CBAP® Certification from the International Institute of Business Analysis (IIBA®) in 2010. She holds a Certificate in Project Management from the University of Washington, and a BA with a focus on Management in Information Technology from The Evergreen State College, Olympia, Washington.
James is co-author of Strategies for Project Sponsorship and a contributor to The Complete Project Manager. She is a frequent presenter on business analysis and project management topics, and a popular blogger and tweeter. She is currently president of the IIBA Seattle Chapter, and a past vice president of the PMI Olympia Chapter.
About Watermark Learning
Since 1992 Watermark Learning has provided training that turns the complexity of industry standards into practical application. Our courses are laser-focused to enhance performance for business analysts, project managers, and process analysts and lead to enduring results in organizations. Our interactive classes engage students to learn and motivate them to perform. Contact us at (+1) 952.921.0900 or 800-646-9362 (USA only), or visit http://www.WatermarkLearning.com.
Media Contact Details:
Mike McCalley
7301 Ohms Lane, Suite 360
Minneapolis, MN 55439
Phone: (+1) 952.921.0900
Fax: (+1) 952.921.0901
Source: Watermark Learning