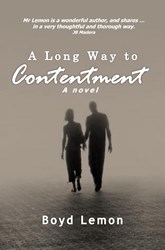 Just love your work, especially Digging Deep. You have inspired me to dig deep and to be honest about how I think about my past and how I go about discovering what my true passion(s) are. Thank you! - John Barry
St. Marys, GA (PRWEB) January 16, 2014
Lemon's contemporary novel is offered in paperback format and for an introductory price of 99 cents on Kindle for a limited time only before it reverts to its regular price of $4.99. The novel is titled "A Long Way To Contentment." This new release will showcase a deeper and darker element to Lemon and is set to be one of the most shocking releases of the year. Lemon has a track record for writing high intensity non-fiction with a trail of hits to his name. His book "Digging Deep: A Writer Uncovers His Marriages" is his current bestseller—but pre-release hype has industry pundits betting on his new novel becoming his new all-time bestseller.
Pre-release reviews have praised Lemon for his fiction foray—many have cited it as his best work to date. The Lemon story continues to grow—as well as a great reputation as a writer. "A Long Way To Contentment" tells the story of a young writer and his search for happiness—through loss, failure, drink and drugs, Lemon weaves an epic tale of one man and his redemption in the modern world.
There's a new kind of hero in town––Brad, multifaceted, talented, flawed, lonely and powerful.
Brad, the family man who sits for hours with his comatose sister in a San Francisco hospital.
Brad, damaged and abandoned by his mother, ignored by his father.
Brad, still waiting for the best seller his agent believes he deserves.
Brad, the man who drives away his disappointment, pain and horror with the cocaine he desires so much.
Brad, the prisoner of Myanmar.
Welcome to Brad's world.
In Boyd Lemon's epic, contemporary novel we see a different side of Lemon, a side that we have waited so long to see. Where will Boyd take Brad?
Lemon will be on a book tour promoting the new novel starting January 14th.
About Boyd Lemon:
Boyd Lemon lived most of his life in Southern California and moved to Boston in March 2007, where he stayed until spring of 2010. Boyd later relocated to Europe for a year, splitting his time between Paris and Tuscany. Boyd's writings are largely based on his life experiences. He has written seven books including, "Eat, Walk, Write: An American Senior's Year of Adventure in Paris and Tuscany", "Digging Deep: A Writer Uncovers His Marriages", "Unexpected Love and Other Stories", and his latest publication "Retirement: A Memoir and Guide." Boyd maintains a riveting travel blog "Boomers and Seniors" in which he discusses his travels and recommends economical travel options for baby boomers and seniors.