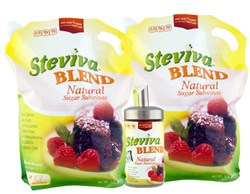 "Steviva mirrors our core values as a company with a high quality product and eco friendly, beautiful packaging," says David Marinac, president of StandUpPouches.
Cleveland, OH (PRWEB) January 16, 2014
Pouch packing supplier, StandUpPouches.net, recently released a branded eBook for Steviva Brands, Inc.—an Oregon-based manufacturer of stevia products and other bulk ingredient sweetners. Titled Stevia Packaging Uses Stand Up Pouches, the eBook profiles stevia's growing popularity among consumers (thanks to its calorie-free, diabetic-friendly, all-natural composition).
The eBook also highlights how other socially-responsible brands can grow and compete by using laminated film packaging. Stand up pouches, also known as custom stand bags or Mylar bags, save companies on material and shipping costs, while helping to promote a healthier planet. The layered barrier film in stand bags blocks out moisture, odor, and pests; is puncture-resistant; and collapses into a paper-thin disposable (if it's not recycled), which is much more landfill-friendly than traditional boxes, canisters, or cartons.
Steviva leaders expressed their enthusiasm about working with Stand Up Pouches and its parent company, ABC Packaging. "As far as our success goes, we have seen a 160 percent growth rate, year over year, for the past three years," reported Thom King, president and founder of Steviva Brands.
"We will be adding a new, 16,000 square-foot facility by early 2014. We're also bringing in two more companies that will synergize with our current operations. So business is doing quite well. We are glad that ABC Packaging has been along for the ride."
Stand Up Pouches shared a similar view about the partnership and its basis for the eBook. "The Steviva story is a great example of innovative packaging for an innovative product. Stevia is a game-changing alternative to artificial sweetners and sugar substitutes," said David Marinac, president of StandUpPouches.net.
"When you're marketing something distinctive, healthful, and earth-conscious, you want packaging that represents those qualities. Stand up pouches highlight all Steviva's best selling points with tailored printing on front and back panels, plus zip-seal closures that preserve freshness and flavor."
More information on Steviva products—including store locations and stevia-based recipes—can be found on the Steviva website.
For more information on custom, pouch packaging design and production, visit the StandUpPouches website.
About StandUpPouches.net
StandUpPouches.net is a leader in flexible packaging, specializing in stand pouches—one of the fastest-growing package solutions in the market. SUP designs and supplies stand-up packaging made from multilayer film, customizable in boilable or microwavable options. SUP pouches keep products fresher, longer, while protecting contents from moisture, vapor, oxygen, odor, light, or puncture. StandUpPouches.net is a division of ABC Packaging Direct, based in Cleveland, Ohio.
Media Contact
Alysa Wax
Senior Marketing Manager
508-969-9581 Ext. 713
alysa(at)precisionmarketing(dot)com