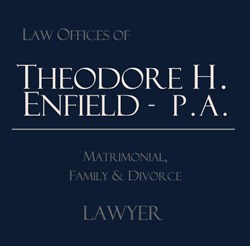 MIAMI, FL (PRWEB) January 16, 2014
Fort Lauderdale divorce lawyer Theodore Enfield, is now providing relocation child custody consultation for clients considering relocating upon their divorce becoming final.
Child custody agreements can be easy or extremely difficult depending on how willing separated parents are willing to work together.
When a parent begins making preparations to relocate, or had already done so, gaining full custody can become difficult. As the old saying goes, perception is everything.
Relocating miles away could appear to the court as if the parent is choosing to abandon their child(ren). This could impact the court's decision to the amount of custody each parent should be awarded.
Plus, in many cases, the courts will determine having the child remain with a parent not relocating is best since it will not disrupt the child's current lifestyle.
It is not impossible for a parent to relocate and receive full custody of their children. In order to do so, they will have to prove to the court it is in the child's best interest to move away with the them.
Plus, unless there are extenuating circumstances where the other parent is forced to relinquish their rights, both parties will have to agree to it.
However everything is dependent upon the courts and laws governing each state.
As the top Miami Dade lawyer, Theodore Enfield ensures his client's understand the laws the state of Florida imposes regarding child custody and the decrees of their divorce.
Neglecting to follow the decrees agreed upon during a divorce hearing can lead to legal problems for a parent and loss of custody. For example, if a parent who was awarded sole custody of decides to move to another state years later, some decrees require a 60 day notice and a document with the other parties signature approving.
Breaking the decree could mean fines and potential loss or reduction of custody.
In the event a non custodial parent decides to fight the custodial parent (whom is planning to relocate) for more or sole custody due to relocation, the custodial parent would need to prepare a full custody evaluation with the court proving the move would benefit the children and ensuring a new custody arrangement is in place.
About the Attorney Theodore Enfield:
For over 30 years, the Law Firm of Theodore E. Enfield has helped hundreds of Florida families with different family law issues pertaining to divorce, domestic violence, prenuptial agreements, equitable property settlements, child custody, and child support.
With years of experience handling court cases and different family law scenarios, Enfield has built a reputation as the most trusted Miami family attorney.
When meeting with individuals or couples seeking divorce, before any proceedings begin, the highly-experienced Miami divorce lawyer ensures his clients know exactly what to expect before they file.
The Miami Dade County attorney provides each client with a complimentary Florida family law consultation explaining the impact divorce will have on them financially, in addition to the potential implications it may cause on the rest of their family. Before making any major decisions, Theodore Enfield encourages clients to first seek his free consultation services to get a firm understanding what is expected and the potential expenses associated in filing any lawsuit.
To schedule a consultation or inquire about different family law services the Law Firm of Theodore E. Enfield offers, call the local direct line at (305) 933-9592 or toll free at 800-733-5299.