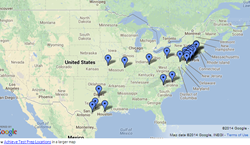 One of the ways we stand out is the live instruction we offer our online students. This is crucial to their success, states Mark Olynyk, CEO of Achieve Test Prep.
Wayne, NJ (PRWEB) January 16, 2014
Achieve Test Prep, a leading provider of RN bridge programs, recently expanded its offerings to include five accelerated pathways for students pursuing a bachelor of science in nursing (BSN) degree. The test prep institution also unveiled nine new campus locations throughout Texas, Connecticut, and North Carolina.
Altogether, ATP now maintains 25 locations, in addition to its online study options. The accelerated nursing bridge programs are geared toward experienced healthcare professionals—including LPNs, paramedics, RTs, and current RNs.
"This year we began offering five BSN programs, all designed to build on the medical knowledge and clinical experience that working practitioners already have," said Mark Olynyk, CEO of Achieve Test Prep. "Like our associate-level RN bridge programs, the fast-track BSN combines classroom learning with credit by examination. It's a more efficient, cost-effective way for nurses to advance."
ATP's credit by examination model ensures that students learn all the necessary exam content, and then pass standardized exams in order to earn full college credit without actually taking the course. ATP works with a variety of well-known colleges and universities, who issue the appropriate credentials, according to their transfer credit policies.
ATP's new campus locations come at a time when many nursing schools are being forced to turn away or "wait list" qualified applicants. But accessibility is just one of the factors that distinguish ATP from its competitors. Extremely high pass rates, personalized study plans, and online classes taught by live instructors are among other noteworthy distinctions.
"Ours is much more than a self-study option," explains Olynyk. "We genuinely care about our students' career development and long-term success. Our instructors and academic administrators are always available—via email, onsite support, or even through social media. We're also committed to making higher education logistically possible. So we also prioritize convenience and affordability—putting nurses degrees back within reach of today's busy adults."
About Achieve Test Prep
Achieve Test Prep—the Fastest Way to Achieve Your RN or BSN—is committed to providing academic excellence, in-demand career training, and customized bridge plans for adults looking to advance their careers. With campus locations in New York, New Jersey, North Carolina, Ohio, Pennsylvania, Texas, Connecticut and Missouri, ATP is devoted to helping medical professionals advance their careers. The credit by examination bridge model is available both online and via onsite classes—days, nights, and on weekends—to provide students with the most class scheduling options. ATP's Achieve 911 program helps struggling students to pass their exams. For more information, visit http://www.achievetestprep.com.
Contact
Alysa Wax
Precision Marketing Group
alysa(at)precisionmarketinggroup(dot)com
508-969-9581 Ext. 713