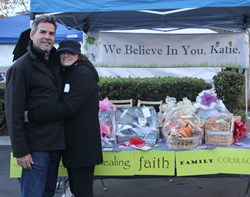 Northridge, CA (PRWEB) January 15, 2014
Following up on the "Rock for Katie" fundraising campaign in the spring of 2013, community members of Highland Hall Waldorf School continue efforts to raise money, to help Katie Smith, a fellow parent, as she continues her battle with brain cancer. In November, they ran for "Team Katie" in the Calabasas Classic 5k/10k Jog A Thon benefiting the Talbert Family Foundation, raising $4,000 through in kind donations and runners' pledges.
Katie, mother of two young children, was diagnosed in May 2012 with Anaplastic Astrocytoma. This form of cancer affects the motor region of her brain, causing loss of motor skills and the onset of unpredictable seizures. Over the summer, she underwent surgery to remove a good portion of the tumor. But while the family's hopes for a full recovery are bolstered by the outcome of the surgery, costs for treatment still continue. To help defray those mounting medical costs, several parents from the Highland Hall community joined in the jog-a-thon. Katie herself walked over 3 miles of the course.
Fellow Highland Hall parent, Launa Prince says, "My son Aric and I ran for Team Katie, and were so happy to have a tangible way to be supportive to this awesome family."
Though the Calabasas Classic 5k/10k Jog-a-thon was held on November 10, donations toward Katie's treatment are still being accepted through the Talbert Family Foundation at http://talbertfamilyfoundation.org/pages/Katie.html.
"We are always so appreciative of the help we receive from our community," says Katie. "Everyone at the school has been so comforting and kept us going through this very challenging time."
"Thank you to everyone who provided the motivation to help Katie complete the walk," adds Micah Smith, Katie's husband, "and for helping me take care of my wife and family."
The Talbert Family Foundation is dedicated to providing direct financial support to local families suffering from catastrophic illnesses, primarily cancer. 100% of all funds raised go directly to the families.
Highland Hall Waldorf School, located in Northridge, CA, was founded in 1955, and is the oldest Waldorf school on the west coast. It provides Waldorf® Education from Pre-school through High School to families throughout the San Fernando Valley and the greater Los Angeles area. Its unique approach to learning successfully addresses the changing needs and capacities of children at each stage of development. Fully 98% of its high school graduates move on to renowned colleges and universities; 42% of Waldorf graduates pursue college majors in mathematics or science. Featuring a curriculum of academically challenging lessons infused with arts and hands-on learning, Highland Hall provides students with a solid academic foundation, the ability to think creatively, a sympathetic interest in the world, self-confidence, and an abiding moral purpose.