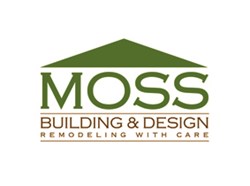 The HandyMOM 101 and HandyGirl 101 programs make Moss different.
Chantilly, VA (PRWEB) January 15, 2014
Jeannine Miller, Community Relations Manager at Moss Building & Design, will be appearing on Let's Talk Live News Channel 8 on Thursday, January 16th, 2014. Moss Building & Design was selected among several other exhibitors of the Home and Remodeling Show to appear on the segment.
Moss Building & Design distinguishes themselves from others in the industry with their community involvement and high-quality services. Not only does Moss support charitable foundations, but they also engage the community through their HandyMOM 101 and HandyGirl 101 programs. These programs started with the formation of HandyMOM101 which targeted Moms' group in Northern Virginia so that women could learn important DIY skills to complete maintenance items in their own homes. HandyGirl 101 is for young girls who also want to get involved in learning DIY skills early, and through the workshop they can earn a Girl Scouts' badge.
Though Moss has services ranging from additions and kitchen remodels to handyman services, they also use these programs to empower women to tackle their smaller "honey-do" lists. HandyMOM 101 includes a demonstration where attendees are invited to work alongside a Moss professional and test their new skills. The workshop is a hands-on approach to teaching women the right DIY skills they need to tackle their home improvements. Moss offers a variety of workshop options including "Tile it," "Patch It," and "Hang it."
Jeannine is excited to be on the show to present these programs and represent Moss. "The HandyMOM 101 and HandyGirl programs make Moss different. At Moss, we are interested in the quality of work that we do but also in giving back. These programs have allowed us to reach out to the community and to women, who are not often made a part of the remodeling and construction business."
Jeannine Miller will be covering the HandyMOM 101 program and demonstrating two of Moss' most popular workshops: "Patch it" and "Tile it." Let's Talk Live Hosts, Melanie Hastings and Natasha Barrett, will have some hands-on action as they test out these workshops. Tune in Thursday morning, January 16th, 2014 to catch the live action.
Moss Building and Design will be at the Home & Remodeling Show Friday, January 17th to Sunday, January 19th at the Dulles Expo Center. As well, the company will present two HandyMOM 101 workshops with one on Saturday, January 18th at 3 p.m. and the other on Sunday, January 19th at 2 p.m.
Homeowners wishing to learn more about Moss' remodeling services in Northern Virginia, including additions, kitchens, bathrooms, basements and home services, or would like a free consultation, are encouraged to contact Moss at 703.961.7707, or visit the company website at http://www.mossbuildinganddesign.com.
About Moss Building and Design and Moss Home Services:
For home improvement in Northern Virginia, you can count on Moss Building and Design and Moss Home Services. Moss is an award-winning, family-owned residential remodeling and home services company located in Chantilly, Virginia. Since 2001, they have established a reputation for excellence in remodeling additions, kitchens, bathrooms and basements and performing home services throughout Northern Virginia. Their customers see them as a trusted partner and they are very proud of their exceptional 80% repeat customer and referral rates. Moss Building and Design has won consumer awards such as Angie's List Super Service Awards for the last four years and has an A+ rating from the Better Business Bureau, as well as many other industry building and design awards.