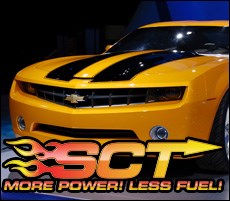 SCT FLASH TUNERS
(PRWEB) January 16, 2014
4 Wheel Online is bringing its customers the very best aftermarket products by teaming up with SCT Flash. SCT Flash is a world renowned manufacturer of custom tuning software and handheld automotive performance and fuel economy programmers. Their products are specifically designed to enhance performance for Ford, General Motors, and Dodge/Chrysler vehicles.
Because most modern vehicles are controlled by a PCM (engine management computer), SCT's handheld programmers are the best way to increase horsepower, torque, and throttle. Also, these programmers will help boost a vehicle's fuel economy. The programmers do this by altering the preset configuration in the vehicle's chip to better suit a driver's specific needs. Adding to the appeal of the SCT Tuners is the ease of installation. In fact, each of the SCT Tuners can be installed in just 15 minutes!
This past year at the 2013 SEMA Show, SCT Flash showed off their latest product: the SCT X4 Flash Tuner, which will be released this spring. The X4 tuner has been reduced in size from previous models and incorporates Wi-Fi connection to help drivers update their vehicles with the newest systems. This tuner is incredibly easy to use. It features a bright color screen and can store an engine's default settings, allowing drivers to return back at any time. Additionally, the SCT X4 is capable of holding 10 custom tunes and comes pre-loaded with Dyno Proven tunes.
SCT Tuners offer a wide range of benefits that can help amp up the muscle of any truck or car. For this reason, 4 Wheel Online is extremely proud to carry SCT products at the lowest price available on the web. We pride ourselves on free shipping, low prices, and great service to our customers. Check out SCT Tuners and products any time here at 4 Wheel Online.