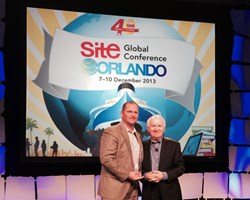 Magical Madrid showcased the best of Spanish culture, to create a memorable incentive travel experience.
New Brunswick, NJ (PRWEB) January 16, 2014
Dittman Incentive Marketing has been awarded one of the incentive travel industry's top awards, for creating the "Magical Madrid" gala event as part of a sales incentive program for Santander Bank. The Crystal Award for Most Outstanding Single Motivational Event within an Incentive Program was presented by Site, the Society of Incentive and Travel Executives, a global organization with the mission to connect motivational experiences with business results.
"Magical Madrid was envisioned as a festive celebration for Santander Bank's top U.S. performers – a final night flourish to their incentive reward trip to one of Europe's most culturally rich and vibrant cities," said Marty Doyle, Dittman's Director of Travel Experiences, who accepted the award at the Site Global conference in Orlando. "We created a unique, multi-faceted event to reflect the organization's brand and to recognize their Top Performers. The Magical Madrid gala provided excitement, entertainment, and relaxation areas all in one venue."
Dittman collaborated closely with local partner Spaintacular, to produce the event at La Quinta de Jarama, a Spanish countryside estate. The venue was dressed wall to wall in Santander red, and then sub-divided into five separate event areas for dramatic reveals throughout the night. Guests were treated to a range of cultural experiences, including a special appearance by a Formula 1 driver; a racecar on display in the Formula 1 Lounge; several Spanish musical troupes; a branded laser show; and regional food and drink specialties. Just when it seemed the night was drawing to a close, the lights changed, shades lifted, and two new spaces were revealed: the Red Lounge featured a company-branded ice bar, a DJ and dance floor to spice up the party. Mellow ambience was offered in a jazz infused Champagne Lounge. "Something for everyone," as Doyle put it.
As a signature Dittman Event, Magical Madrid created an emotional connection between the client's brand and culture, leaving a lasting impression of a "once in a lifetime experience" for the Winners. Said one participant, "I feel very proud to be working for such a great company."
In announcing the Crystal Awards, Site President David Sand said: "These organizations … showcased the best, not just the best-known, of their destinations, advanced client values and brands, and gave generously to local communities. In doing so, they achieved a number of important business goals for their clients, including increased sales, lower employee turnover and greater loyalty."
About Dittman Incentive Marketing
For more than 35 years, Dittman Incentive Marketing has been an award-winning, quality leader in providing incentives, recognition, and rewards programs to help companies realize immediate ROI in motivating sales people, employees, channel partners, customers, and consumers. Dittman's signature products and services include: TotalPRO® (Performance Recognition Online) – an incentive, recognition and rewards online software solution (SaaS), and Deluxe Group Incentive Travel. For more information, visit http://www.dittmanincentives.com.
About the Site Crystal Awards Recognition Program
In 1980, Site created the Crystal Awards Recognition Program as a way to honor top professionals who deliver programs that connect motivational experiences to business results. Site has more than 2,000 members in 90 countries, and its Crystal Award is regarded as the highest honor in the industry. This year's awards event, held at the Site Global Conference on December 8, 2013 in Orlando, Florida celebrated 10 extraordinary motivational programs.