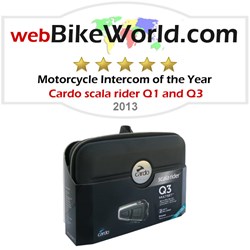 Pittsburgh, PA (PRWEB) January 15, 2014
Cardo Systems, Inc., the world's market leader in wireless Bluetooth communications for motorcycle helmets, today announced that its scala rider® Q1 TeamSet and Q3 MultiSet have received the 2013 Motorcycle Intercom of the Year Award by webBikeWorld.
WebBikeWorld's verdict: "Cardo Systems did it once again with the new Cardo Scala Rider Q1 and Q3 ….. absolutely the most complete and comprehensively packaged systems on the market today. Cardo went all-out and came up with a slimmed-down, up-scaled, easy-to-use and price-competitive Bluetooth intercom system: the Cardo Scala Rider Q1 and Q3, the webBikeWorld 2013 Motorcycle Intercom of the Year!"
Replacing the world-leading scala rider Q2Pro products, the Q1 and Q3 models feature a sleek new design with outstanding ergonomics, longer battery life and new features and functions. As another industry "first", both the Q1 and the Q3 offer "music sharing", allowing both rider and passenger also to listen to the same song from their smartphone or other A2DP sources. Both products come with optional boom-mounted or corded microphones and speaker jacks for plugging in replacement speakers.
"We truly appreciate the recognition we have received and it is especially gratifying to see our products named Motorcycle Intercom of the Year a second year in a row. With way over 2 Million products sold to date, riders world-wide choose our scala rider line of products not only because we pioneered the great majority of the advanced features in the industry today, but because we remain 100% committed to continuing our tradition of leading in innovation and quality to significantly augment the user experience", said Cardo CEO Abraham Glezerman.
The new scala rider Q1 and Q3 are very easy to install and to use. Cardo scala-rider products have won a host of other great accolades as well, such as the G9 which was WebBikeWorld's 2012 Motorcycle Intercom of the Year award which also received Five Stars. The popular scala rider® G9 was also named by Motorcycle Magazine as its pick for 2012.
Scala rider products for bike-to-bike intercom allow users to communicate via intercom with fellow riders at great distances, conduct mobile phone calls, listen to the built-in FM radio, receive streaming stereo music from their smartphones, get directions from their GPS devices and control most of these features in a safe manner by voice command.
The scala rider Q1 and Q3 come in single and double unit packages. In addition, the company has recently launched an entry level model of its Q-Series, the scala rider Qz. Towards the end of January 2014, Cardo will also begin worldwide shipments of its new flagship product, the scala rider G9x.
scala rider products are available in over 2,000 shops in the US and Canada and in over 70
countries worldwide.
About Cardo - Cardo Systems, Inc., headquartered in Pittsburgh, PA, has specialized in the design, development, manufacturing and sale of state-of-the-art communication and entertainment systems for motorcycle helmets since 2004. Cardo has pioneered the vast majority of innovations for Bluetooth motorcycle and snowmobile headsets. The company's scala rider® line of communication systems, is the world's bestselling Bluetooth system for the motorcycle industry. For more information call (412) 788-4533, visit cardosystems.com or follow us on Facebook at https://www.facebook.com/cardoscalarider