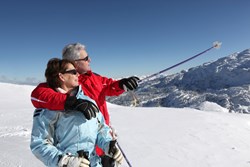 According to Annuities24-7.com CEO Scott Briggs: "We try to make people comfortable and confident in taking that important first step to financial security."
Farmington Hills, MI (PRWEB) January 15, 2014
With the coming of the New Year, many consumers have resolved to finally take control of their financial future. For many, though, the hardest part is taking that first step. Now there's a new online resource that can help.
A new website, Annuities24-7.com, was created to serve as a starting point for people who are looking to get serious about their future financial security. The new website is the brainchild of long-time financial services professional Scott Briggs.
According to Briggs, Annuities24-7.com goes far beyond providing information about the various types of fixed annuities available. It provides plenty of information about alternatives to annuities, for example, as well as consumer-friendly financial tools to aid novices.
Briggs envisions Annuities24-7.com as a place where people can start the process of planning for their future financial security. They can work at their own pace, in private, and without the influence of a salesperson.
Of course, with a name like Annuities24-7.com, the website never loses its focus on fixed annuities as a component of a diversified program for financing retirement. The website starts by helping consumers understand the various types of annuities available and how they differ. Knowing those differences can help consumers make informed decisions about whether an annuity should be part of their retirement savings strategy.
When the new Annuities24-7.com website was launched, Briggs said, "We understand why a lot of people are reluctant to take that first step." The new website, Briggs continued, will therefore be "a place where people can take that step confidently, and without the feeling someone is pushing them."
Those consumers will likely start with the website's self-service financial tools and calculators. If they wish, they can later contact Annuities24-7.com (by email or phone) with questions regarding the role of annuities in retirement income planning. They will receive a timely response from an Annuities24-7.com consumer contact specialist. That response may be an overview of annuity features and benefits, or free educational literature.
What happens if someone has a question about their personal financial situation or a specific annuity product? Annuities24-7.com can connect them with someone who can help: a licensed insurance professional. The website is affiliated with hundreds of insurance agents from coast to coast, and all are very familiar with the many types of annuities available. So if a consumer calls with a specific question, Annuities24-7.com can refer the caller to one of the licensed professionals in this nationwide network.
But for many people, that conversation may be well into the future. For now, they need a place where they won't feel intimidated because they may lack financial expertise. Annuities24-7.com can be a great place to start.
Briggs summed it all up with these words: "Most of us want a comfortable retirement. We try to make people comfortable and confident in taking that important first step."
About Annuities24-7.com
Annuities24-7.com, Inc. is an independent annuities information and referral resource based in Farmington Hills, MI. The company's founder and CEO is Scott Briggs, a member of the Briggs family, a respected team of financial professionals who specialize in wealth management and asset preservation. Learn more by visiting annuities24-7.com.
For additional information, contact Lidia DeBruyn at (248) 987-2993 or via email at LDeBruyn(at)annuities24-7(dot)com.