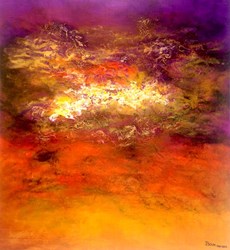 "My art is a journey for enlightenment that reveals itself through openness, harmony, and a subtlety of vibrations."-Boun
Greenwich CT (PRWEB) January 15, 2014
Enjoying Aibo Fine Asian Art/Glenn Aber Contemporary while navigating ArtPalmBeach will be a sensory experience. ArtPalmBeach will be held at the Palm Beach Convention Center with the first preview by invitation only on January 23 from 6-10pm. Fair hours are 12-7 on January 24-27.
Many of the new pieces exhibited at Aibo/Glenn Aber Contemporary will be seen for the first time. Each has a unique approach to process and material. All of our artists are outstanding technicians; they respect their material and find new and different ways to manipulate it. Whether it is Marlene's sand casting that gives the surface of the glass a translucence, or the abstract smooth glass of Brian Usher, each process is unique. While Rose's process involves a sand mold, Usher's process involves drawing, and when viewing his work you can see the fluidity of the shape similar to that of a pen stroke.
AiBo Fine Asian Art/Glenn Aber Contemporary will exhibit art at ArtPalmBeach that offers the viewer a primary experience, whether it's through the unique approach to material, a rare process, or content that evokes a visceral reaction.