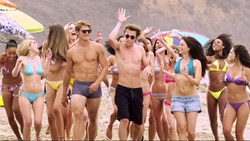 SUNDANCE, UTAH (PRWEB) January 16, 2014
Vision Films, a worldwide distributor of independent feature films, documentaries and music programming announced today it has acquired all domestic and international rights, including theatrical, VOD, digital, DVD and television to Scatena & Rosner Films': THE SAND starring Mitchel Musso (Hannah Montana), Dean Geyer (Glee), Brooke Butler (All Cheerleaders Die) and Jamie Kennedy (Malibu's Most Wanted), and MAN-TERVENTION starring Nick Roux (Jane by Design), Travis Van Winkle (Transformers), Chloe Bridges (The Carrie Diaries) and Mario Van Peebles (One Life to Live). Vision Films will domestically release MAN-TERVENTION this summer, and THE SAND in the fall of 2014.
Lise Romanoff, Managing Director/CEO of Vision Films, said, "I'm very excited to begin working with Gato Scatena and Jordan Rosner of S&R Films. They understand the needs of our younger core audience, and their creativity will no doubt be valuable both in the marketing of the upcoming two features, in addition to our future collaborations."
In THE SAND, the story follows a group of hung-over twenty-somethings after an all-night beach party who awake to a beating sun, and a seemingly carnivorous beach that devours anything with a heartbeat that touches the sand. Writer's Alex Greenfield and Ben Powell's screenplay was inspired by true events, and Isaac Gabaeff's style of directing pays homage to the genre hits of the past.
MAN-TERVENTION—the process of getting over the ex by moving #ontothenext—is the story of a college student convinced that romance is dead after getting his heart broken. To snap him back to normal, his best friend plans an unorthodox "man-tervention" filled with sex and debauchery to convert him from hopeless romantic to forever player, but in the process they both discover that being in love is not so bad after all.
Vision Films' 2014 slate of diverse independent programming includes HAMLET & HUTCH, a touching family film starring Burt Reynolds as Papa Hutch, Turbo the Greyhound as Hamlet, Emma Rayne Lyle as Liv and Terri J. Vaughn as Kendall; CRUISIN', a contemporary American Graffiti featuring low-rider cars and hip hop music; COMEDY WARRIORS, a documentary exploring the healing power of humor through the stories of five wounded veterans and four top comedy coaches; and the iconic documentary, SUNSET STRIP where one can experience The Strip from its origins in the 1920s to today's resurgence.
# # #
About Vision Films
Operating for over 23 years, Sherman Oaks, California based Vision Films is an independent Worldwide Distributor and VOD Aggregator of over 500 Feature Films, 500 Documentaries and 100 different Music Programs from some of the most prolific independent film producers in the world, and manages all available rights from Theatrical, Video/DVD/Bluray, Television and VOD/Digital Media in both the International and Domestic marketplaces.
About Scatena and Rosner Films
S & R's founders Gato Scatena and Jordan Rosner previous releases include Lifetime's IMAGINARY FRIEND (Lacey Chabert, Ethan Embry) and KILL KATIE MALONE (Dean Cain). In addition to MAN-TERVENTION and THE SAND, they have a full slate of additional pictures in development for 2014.