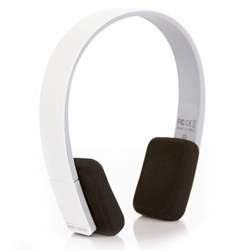 SWAGE Bluetooth Headphones Receive Strong, Positive Reviews
New York, NY (PRWEB) January 21, 2014
Since its launch in mid-2013, Rokit Boost's SWAGE Bluetooth headphones have emerged as Rokit Boost's bestselling mobile accessory. Sporting a sleek, compact design, state-of-the-art noise cancellation technology, and wireless compatibility with the iPad, iPhone, iPod, and any other Bluetooth A2DP-enabled mobile device, the headset has received multiple positive reviews for its design, performance ability, and functionality. It is available regularly for just under $50.00.
Great Design and Performance Value
With a studio-quality playback option and top-of-the-line noise cancellation technology deliver a superior-grade audio listening experience. A built-in microphone gives the Bluetooth headphones multi-use applications, for professional as well as personal settings.
The SWAGE's lightweight body and compact design make it easily taken wherever a user goes so he or she can enjoy listening to his or her favorite jams while on-the-go. Rokit Boost's Bluetooth headset requires very little charge time as well: just a 30-minute charge period, and the SWAGE is ready to provide up to 6 to 8 hours of playback time, reportedly one of the longer playback durations available on the market.
Feature Overview

Wireless compatibility with the iPad, iPhone, iPod and any Bluetooth-enabled device
Lightweight, extra compact design for easy travel
Built-in microphone for multiple use features
Special multi-button function layout for convenient, easy-to-operate use
Supports Bluetooth V2.1+EDR
High-quality stereo playback ability
Has 6 to 8 hours of playback time
What's the Word?
"Rokit Boost's Bluetooth headphones are designed to give you the freedom to rock out, without all those messy cords getting in the way. They're super lightweight and comfortable, so you'll only know you're wearing them thanks to the ultra-high-quality tunes playing through your speakers. Compact, stylish, and easy to store or transport, these headphones are great for dancing around your home, or for taking the music with you anywhere." – LadyLux.com
"Given the price range, it's definitely a good buy and probably one of the best buys if you like a unique, sleek design… For casual listeners who're looking for a convenient way to answer calls while listening and want to look cool, the Rokit Boost SWAGE is for you." – Jan Harold Dlaz, Frappular.com
"The bottom line is that if you are looking for a set of headphones to add to your music listening pleasure or to talk online or make phones calls and you don't want to spend a lot of cash, then take a look at the Swage by Rokit Boost – Bluetooth Headphones." – Rokit Boost SWAGE Review, HeadphoneStyles.com
"This Rokit Boost Bluetooth Headset has superb sound in High, Mid Range and Low Notes even Bass sounds great! I am so pleased with this headset… [I] highly recommend this Bluetooth headset to ALL!" – Amazon review by Daisy S., Top 10 Amazon reviewer
More information about the Rokit Boost SWAGE headphones can be found at: http://www.rokitboost.com.
About Rokit Boost
Rokit Boost is a pioneer and provider of high-end, luxury mobile accessories. The company brings great value to mobile lifestyle consumers by offering accessories that markedly improve the user experiences of existing electronic devices.
Whether engineering iPhone charger cases, Bluetooth headphones, or wireless Bluetooth speakers/microphones, Rokit Boost's team leverages leading-edge technological improvements to enhance the usability of today's most popular mobile devices. Rokit Boost's first priority is giving its customers complete satisfaction, with a philosophy of great customer service, great prices, and, above all else, great-quality products.