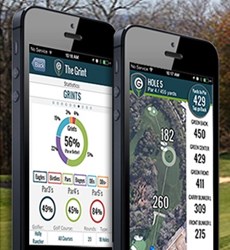 TheGrint will be at the 2014 PGA Show, booth 3114
Miami, FL (PRWEB) January 16, 2014
TheGrint made its Golf Handicap app available to the industry one year ago (Jan. 2013) at the 2013 PGA Show in Orlando. But it wasn't until March 2013 that the app was available to the general public.
During 2013, TheGrint had an impressive growth fueled mainly by its own users that constantly recommended the site and app to other golfers. In August 2013, TheGrint launched a beta version of its Golf GPS Rangefinder feature and it soon became a favorite feature among users.
The company has focused most of its efforts during the off season to 1) finalize the Android Version, 2) finalize the Golf GPS rangefinder feature and 3) improve the social features of the app.
The Android version is now at a very advanced stage and a first release is likely to come out before the end of January.
Regarding the new social features it is still a well guarded feature, but the company will be exhibiting at the PGA show at booth 3114. If you are there, make sure to visit and they 'll show the new features to anyone who asks.
For more information, you can reach to the team at contactus(at)thegrint(dot)com or visit the site TheGrint.com.