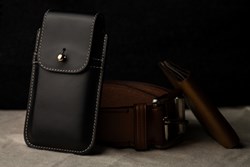 Markham, Ontario (PRWEB) January 15, 2014
It has been two months since the Blacksmith-Labs Kickstarter campaign pledged successfully, backed by more than 180 backers. And with the official website launch on Jan 1, customers worldwide are now able to purchase the Blacksmith-Labs Bruno and Barrett leather holsters directly from our website. See what our customers have to say about these premium iPhone 5/5s leather holsters.
"It's awesome! Worth every penny, can't wait to make the boys at the office jealous! Hell, even the box it was packed in was something :) Great work, very very happy."
-- K. Laviolette, Kickstarter Backer
"Got mine, simply super beautiful, and supreme quility!!!!! I'm totally satisfied..."
-- Y. Marton, Kickstarter Backer
"Wow!! What a beautiful cas ! The quality is here. Very good Job. The packaging is perfect. Apple store could/should sell this!"
-- Kickstarter Backer
"My Barrett arrived yesterday. If is VERY nice, everything I had hoped for."
-- Kickstarter Backer
About Blacksmith-Labs
The Blacksmith-Labs brand is owned by Exati Technologies Inc., with a mission to create the best smartphone leather holster in the world, with unsurpassed craftsmanship and unparalleled durability.