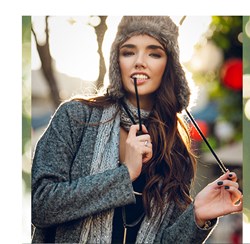 Los Angeles, CA (PRWEB) January 16, 2014
Winter hats are a great way to battle the cold winds outside, and GoJane carries a wide variety.
"A slouchy beanie from our Cold Weather Accessories collection gives you a chic, tomboy look that pairs perfectly with wavy hair," says GoJane stylist and blogger Emily Devine.
In addition to knit beanies with gold lettered witticisms across the front, GoJane also carries hats with traditional pom poms, visors, stripes and studs to accommodate any girl's unique style. For the young lady who dislikes hats, a feminine knit headband covers the ears and keeps them warm without messing up her hair along the way.
Scarves are an increasingly popular winter trend for fashionable females as well.
"Infinity scarves are great because they never slip off or come untied like a regular scarf," Devine says. "You can wear them long and loose or loop them more than once to create a chunky, layered look."
GoJane carries both knitted circular infinity scarves and thinner knit scarves in a variety of colors and patterns, from leopard print to fun sequins. Tall boots, gloves, mittens and socks also help to keep a woman warm while accessorizing. GoJane's affordable winter boots imitate the styles of more expensive designer brands, and they're made for wearing with the shop's knee- or thigh-high socks in a number of patterns and colors.
"Our neutral-colored thigh-high socks can be worn over a pair of warm, textured tights, then with a pair of suede or leather boots on top to keep your legs looking slim under a dress or skirt," says Devine.
To complete the look, GoJane's fingerless mittens in Fair Isle patterns, solid colors and with fur accents keep hands warm while leaving the fingers free and unobstructed.
GoJane is an online retailer of fashion-forward apparel for progressive young women. The website offers all of the latest trends in clothing and accessories for a fraction of the cost of designer brands. GoJane's helpful customer service team is available five days a week, and their 30-day return policy makes finding the right size fast and easy.