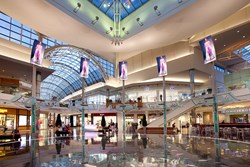 Orlando, FL (PRWEB UK) 15 January 2014
It's been said that in life, no one ever walks in the same river twice. It could also be said that no shopper ever walks through the same Mall at Millenia twice… To remain atop the retail world, week after week and year after year the 1.2 million square-foot luxury center offers an ever-changing and ever-evolving mix of unique-to-the-market stores and services that dazzles shoppers from across North and South America, Europe, and around the world.
Once again, The Mall at Millenia presents stylish enhancements and new retail selections ranging from extravagantly luxurious to appealingly affordable. And, once again, all are sure to attract shoppers and will surely be welcomed as the mall's most impressive lineup yet.
New Stores, New Experiences
Making their debut in time to ring in the New Year are an assortment of luxury stores including landmark retailer Prada, whose Mall at Millenia location is one of only 250 Prada-owned retail stores in the world. Prada arrives in tandem with the exclusive Italian boutique, Versace, whose designs have been showcased in renowned museums including London's Royal College of Art, Japan's Kobe City Museum, and Chicago's National Field Museum. Yet another stunning new Mall at Millenia arrival is Saint Laurent Paris, the fashion house that revolutionized the socio-cultural landscape with the modernization of fashion and accessories.
Adding to the in-demand selection of timepieces comes a new wave including Hublot, whose keen designs symbolize the art of fusion in men's and ladies' watches. And considering its first sale was in 1848, The Mall at Millenia felt it was time to welcome one of the world's most revered watchmakers, OMEGA.
Within a series of popular new stores is the leading international brand of premium travel, business, and lifestyle accessories, TUMI; the popular European beauty retailer Sephora; and innovative software and product developer Microsoft. Also playing a role in ensuring The Mall at Millenia's standing as one of the world's leading retail centers are new additions AllSaints, with its unique brand of sharp edge clothing; the colorful collection of clothing and accessories from C. Wonder; the affordable styles of Swedish fashion retailer H&M; and the lighthearted touch of kate spade new york, which attracts shoppers with its crisp colors, graphic prints, and playful sophistication.
A day of shopping traditionally includes an appetizing grand finale. Impressing epicures is the ever-popular restaurant The Capital Grille, renowned for dry-aged steaks, fresh seafood, an award-winning wine list, and personalized, professional service.
New Looks: Success by Re-Design
In the retail version of Extreme Makeover, several standout stores have added a new sparkle to their appearance with updated designs and, in some cases, a new location. The groundbreaking design that Steve Jobs introduced in stylish essentials such as iPods, iPhones, and iPads is also on display in the sleek look of the new and greatly expanded interior and façade of the very popular Apple store. Also prompting shoppers to give a second look are the new looks of Michael Kors, the jet set fashion designer of luxury accessories and sportswear, and the updated venue of Sony, which features the latest VAIO notebooks, digital cameras, televisions, and home theater systems. Of course, Swarovski will always remain a cut above, especially in a pleasing new setting that showcases their cut crystal objet d'arts.
Perhaps shoppers will agree that the sweetest makeover of all can be found at Godiva Chocolatier, creator of the world's most elegant, hand-crafted chocolates.
On Top of New Trends Since 2000
As newly-arrived retailers complement newly-renovated stores, it's important to recognize that a long-term collection of global brands and landmark retailers is what sets The Mall at Millenia apart. In this one magnificent center, shoppers will find the classic fragrances of Chanel; the timeless timepieces of the legendary Rolex brand; the much-heralded luxury leather goods of Louis Vuitton; and the diverse collection of the famed fashion authority, Gucci. For customizable jewelry, who wouldn't love to open a gift box from Pandora; display the stylish casual luxury of Hollister, Co.; and sport the 'preppy-bohemian luxe' line of one of America's hottest young designers, Tory Burch.
Shoppers are always impressed by the sophistication of international brands including America's Department Store, Macy's; the upscale collections featured within Neiman Marcus; and America's only nationwide, full-line, upscale department store, Bloomingdale's.
In 2014, it's clear that for shoppers past and present, the time to visit The Mall at Millenia is now… and always.
About The Mall at Millenia
Conveniently located just minutes from every major attraction in Orlando, The Mall at Millenia's overall shopping experience includes the opportunity to partake in a wide range of experience-enhancing services and amenities, including personal shoppers, trunk and fashion shows, special signature events, full-service salons, valet parking, a full-service concierge, currency exchange, multi-lingual staff and VIP "meet and greet" program, as well as an onsite U.S. post office with international shipping.
Daily shopping hours are Monday through Saturday from 10 a.m. until 9 p.m. and Sunday, 11 a.m. until 7 p.m. Many restaurants are open through midnight 7-nights per week. For more information, call (407) 363-3555 or visit the Mall's website at MallatMillenia.com.
About The Forbes Company
Based in Southfield, Mich., The Forbes Company is a developer of award-winning luxury shopping centers, owning and managing more than 4.5 million square feet of retail and dining space in three acclaimed properties in Florida and one in Michigan. The Forbes Company brings the best of the retail world into environments that are architecturally significant in their use of the finest materials and breathtaking aesthetics. Combined with remarkable events and deluxe customer amenities, these shopping and dining experiences are nothing short of superb.
A paradigm of The Forbes Company portfolio — The Mall at Millenia in Orlando, The Gardens Mall in Palm Beach Gardens, Waterside Shops in Naples, and The Somerset Collection in Troy, Michigan — complement their respective communities. For more information, please visit TheForbesCompany.com.
About Taubman Centers, Inc.
Taubman Centers, Inc., a real estate investments trust, owns, develops, acquires and operates regional shopping centers nationally. Taubman Centers currently owns and/or manages 26 urban and suburban regional and super regional shopping centers in 14 states. Taubman Centers is headquartered in Bloomfield Hills, Michigan.
###
For more information, contact:
Brenda Lounsberry, Marketing Director
blounsberry(at)mallatmillenia(dot)com
Christine Haughney, Tourism Marketing Director
chaughney(at)mallatmillenia(dot)com