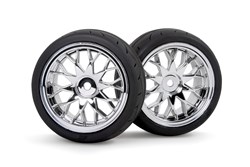 San Diego, California (PRWEB) January 15, 2014
Great minds seem to think alike, as luxury carmaker Mercedes-Benz has announced that it has taken the crown for the most sales in its class for the first time in almost 15 years, luxury wheel manufacturer UsaRim has announced a record year for Mercedes Benz rim sales. There are a number of great cars and SUVs on offer from Benz but buyers who want to stand out from the crowd may want to consider upgrading their Mercedes Benz rims and tires at UsaRim.
UsaRim notes that in the Automotive News report, the carmaker was able to sell nearly 40,000 vehicles in December alone, and more than 300,000 overall in 2013. That includes new car launches like the compact CLA and updates to the larger S-Class and E-Class sedans. The head of the company's USA unit told the outlet that a major role was played by a "focus on customer experience."
UsaRim has seen a proportionate increase in the demand for wheels that fit Mercedes Benz and owners who have recent Mercedes-Benz coupes, sedans and SUVs can find a number of aftermarket options at http://www.UsaRim.com. Ranging in size from 15 inches to 22 inches and more for sedans like the C class and SUVs like the ML-series, upgrading Mercedes Benz rims with UsaRim is easy. Options include customized wheels in chrome, gunmetal and matte black, as well as replica AMG rims that offer the same look and high quality as the company's high-performance in-house tuners.
Based in San Diego, UsaRim offers competitive pricing and, with the new year, free shipping on wheels and wheel and tire sets. Four-wheel sets start as low as $525, and buyers can visit the company's online offerings or visit the San Diego showroom for an in-person look at aftermarket options for their Mercedes-Benz.
Many owners of these high-performance and luxury cars expect quality. Whether looking for aftermarket Mercedes Benz rims or replica options, UsaRim is committed to customer satisfaction for those looking to stand out among the growing number of German luxury sedan and SUV owners.
--------
About UsaRim: UsaRim has built a reputation for providing the highest quality aftermarket wheels, tires and wheel/tire combinations on the market. The company offers Mercedes wheels, as well as options to fit BMW, Honda, Mazda, GMC, Cadillac, Volvo, Volkswagen, Toyota, Porsche and more.