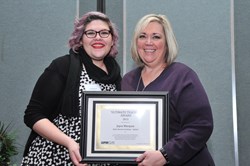 I was so shocked and excited.
Upland, CA (PRWEB) January 20, 2014
Salon Success Academy cosmetology teacher Joyce Marquez was named a 2013 Ultimate Teacher of the Year at the Supercuts Super Sunday held December 8th at the Anaheim Marriot Hotel. The annual cosmetology event brings together educators, students and their families for continuing education opportunities, competitions and an awards luncheon. Teachers are singled out for their "exception and extraordinary teaching skills…warm and encouraging interaction with students and for being an outstanding role model for future professionals in the beauty industry." Marquez was one of only three cosmetology teachers selected this year.
"I was so shocked and excited," said Marquez.
Marquez had no idea that she had even been nominated, never mind that she'd actually won the coveted award. As an Ultimate Teacher, Marquez received a plaque, a gift, a free night's stay at the event site and a free Pivot Point hair cutting class. Most importantly, she was recognized by her peers and by one particular student who thinks Marquez is the ultimate.
Cassandra Cruz was a student at the Salon Success Academy San Bernardino campus when Marquez was her inspiring teacher. Now a shift leader at Supercuts, Cruz nominated Marquez by submitting a letter to Supercuts explaining why Marquez was so deserving. A board of judges, who are professionals in the beauty industry, spent weeks whittling down the list until they choose the three most compelling stories.
And Cruz's story was just that. Between school and work she was clocking 80 hours as she tried to support her family and build a new career. Marquez stepped into Cruz's life at the perfect time.
"From the moment I met her I was in complete awe," wrote Cruz. "She was unapologetically confident in her craft and was eager to teach. I was definitely eager to learn."
Cruz expressed gratitude for the cosmetology lessons Marquez taught her, but even more for the life wisdom Marquez imparted.
"She helped me learn that I didn't need to sacrifice my own sanity and happiness to help others out that I deserve the good things that I worked hard for," wrote Cruz.
In her closing, Cruz thanked Marquez directly: "Thank you Ms. J. for everything you taught me. Without you I would not be where I am now and definitely wouldn't have made it through to getting my license and starting my career."
A teacher at Salon Success Academy for five years, Marquez said that she was honored by the award and the event. Accompanying her to Super Sunday were her son and his one-year-old daughter. Marquez said she had a great time.
"It was all about celebrating and I celebrate with my family, so I brought my granddaughter," said Marquez. When the little girl squealed as Marquez accepted her award, "they told me -she's the next ultimate educator," laughed Marquez.
Marquez is just one of the caring professionals who teach at Salon Success Academy. Salon Success Academy has been training top professionals in the beauty industry for more than 50 years. The school offers hands-on training in cosmetology and esthetics at its five locations throughout the Inland Empire of California in Redlands, Fontana, Upland, San Bernardino, and Corona. If you would like to learn more about training for a new career with Salon Success Academy, please call 877-987-HAIR (4247).