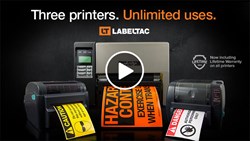 "The LabelTac printer is very easy to use and simple. No downtime is required when switching out labels. The lifetime warranty is a great feature!"
Lake Oswego, OR (PRWEB) January 20, 2014
Organizing and creating a lean facility is important to both manufacturing facilities and corporate offices. A simple solution for accomplishing this task is through labeling inventory, supplies, shelving, or creating warning signs and a host of other signage solutions. Reducing chaos and confusion is the first step to creating a lean and safe work environment. LabelTac Printer Systems are considered the best in the industry and Creative Safety Supply is now offering these printers with a Lifetime Warranty!
Installing, creating, and printing labels for any type of business is simple and convenient with the LabelTac Label Printers. The labeling systems include hundreds of pre-made templates and all are 100% customizable for creating the perfect label for any business. Labels can be made for racks, bar-coding outgoing and incoming products, safety and information signs and banners, electrical and arc flash, pipe marking, and the list goes on. High-output printing along with wide format printing is just a couple great features the LabelTac printers possess.
Creative Safety Supply offers 3 printers with unlimited applications and lifetime warranties – LabelTac 4, LabelTac 4 PRO, and LabelTac 9. A simple solution for creating organization, efficiency, and a safer facility is through owning or renting one of these label printers. Savings can add up quickly by printing labels in house rather than waiting for them to arrive from a third party and paying for shipping fees. Lifetime warranties are unheard of when it comes to electrical equipment so the lifetime warranty on these printers is like finding a diamond in a haystack.
A business owner commented, "The LabelTac printer is very easy to use and simple. No downtime is required when switching out labels. The lifetime warranty is a great feature!"
For more information about the LabelTac Labeling System with lifetime warranty, please visit Creative Safety Supply or call toll-free (866)777-1360 to speak with a professional representative.