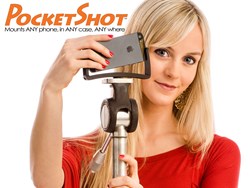 Portland, OR (PRWEB) January 15, 2014
WOXOM is pleased to announce the Kickstarter launch of the PocketShot, a portable smartphone accessory for mounting any phone in any case anywhere, which allows anyone to shoot much sharper video and stills.
WOXOM founder, Charles Waugh, has created a folding universal smartphone mount that provides amazing flexibility and portability for any smartphone. It folds up to stow easily in a pocket, yet goes together instantly to hold a phone when shooting or viewing videos.
The PocketShot has two parts: the cradle that holds the phone and the Handle that provides advanced capabilities. Together, the PocketShot's durable Cradle and Handle provide an extremely affordable solution for shooting video and taking still photography with any smartphone and case.
The PocketShot Cradle will hold any phone in any case - even the Samsung Galaxy Note in a fully protective case. Sporting a ¼-20 threaded insert in its base, the Cradle will mount onto any tripod, monopod, suction cup, etc., to provide a solid base for the phone when shooting videos or doing still photography.
The PocketShot Handle not only allows the user to hold the phone one-handed for shooting videos, it also has pop-out legs that create an instant table-top tripod for YouTube, Skype, FaceTime or Netflix. The top of the handle has a ball-mount with a standard 1/4-20 screw thread on which to mount the Cradle and adjust for the perfect shot or for viewing at just the right angle.
The Handle's ball-mount has a 'Magic Lead-In Pin' that automatically aligns the threads when attaching the Cradle, making it super quick to use. And, the pin keeps the Cradle from falling off unexpectedly when it's unscrewed.
WOXOM had successfully launched the SlingShot on Kickstarter in 2012 and it is currently available through many online channels. The PocketShot launch runs for 40 days and ends on February 19th, 2014.
The WOXOM PocketShot is now funding on Kickstarter: http://www.kickstarter.com/projects/1579983139/the-pocketshot-lets-you-mount-any-phone-in-any-cas
Charles is one of those true Renaissance Men. He's done fine woodworking in Aspen, Colorado. He's been a design engineer for a couple of enjoyable decades. He's currently a fine art portrait artist in Portland, Oregon. He designed and launched the SlingShot by WOXOM on Kickstarter in 2012 which raised over $70,000. He designed and launched the SimplePen on Kickstarter. And, oddly enough, he does Spencerian penmanship using flexible nib fountain pens.
Ben Holm, the main lead on the PcketShot project on Kickstarter, is a web and graphics designer who also supports the team with technical advice, bad jokes, and continual harangues about the superiority of Apple products in general.
Press contact:
Charles Waugh
WOXOM
503-663-1513 ext 4
Press images, logos, etc. at:
[http://www.woxom.com/press-resources