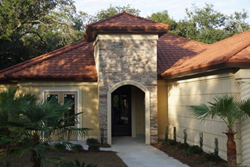 Gulf Shores, Alabama (PRWEB) January 15, 2014
Defender Technologies LLC, based in Gulf Shores, Alabama is feeling the effects of a new push for stronger, smarter, and safer homes, with requests for presentations on their hurricane resistant construction process, both locally and nationally.
New, more resilient building standards introduced by the Insurance Institute for Business and Home Safety (IBHS) have been adopted by the Department of Homeland Security for their Resilience STAR Home project to spur development of homes that will withstand natural disasters.
Homes built to the "FORTIFIED" standard result in not only peace-of-mind and safety for the occupants, but significant cost savings through insurance reductions.
Defender Technologies supplies patented materials and training for resilient construction, is in high demand from builders, developers, real estate professionals, and even government agencies like HUD, FEMA, and the Department of Defense to educate them on the Defender Technologies process.
This week, Dixon presented Defender Technologies' process to a national real estate firm, the Baldwin County Home Builder's Association, and tomorrow, to the Women's Council of REALTORS - Baldwin County Chapter, then on to Las Vegas for the World of Concrete show, where over 75,000 building professionals are expected.
Local WCR Chapter President-elect Kristy Bushaw, a realtor with Century 21 Meyer Real Estate in Gulf Shores, AL recently toured Defender Technologies' Showcase home in Gulf Shores and was emphatic that her fellow WCR members had the opportunity to learn firsthand about this new, safe and resilient home building process.
"I just couldn't get over how the Defender Technologies system provided the combination of safety, affordability, and energy savings in such a beautiful home. Frankly when I was told it was engineered to withstand 200+ mph winds, I was expecting a concrete bunker--but it's stunningly beautiful!"
She went on, "As an organization, the Women's Council of Realtors takes great pride in our members being up-to-speed on the latest technologies, trends, and economics of new building methods so they can best serve their clients. In this hurricane and tornado prone area, resilient building is just smart, and the Defender Technologies system provides the energy savings and insurance savings that actually makes a safe home more cost-effective than a traditional wood-frame home."
Riji Dixon, CEO of Defender Technologies, experienced a home and neighborhood destroying tornado a decade ago in Arkansas, and has been looking for a resilient construction process ever since. "After the physical, emotional, and financial trauma my family and I experienced, I committed myself to find a better solution to help others avoid what I went through, and with Defender Technologies, I've found it."
He went on to emphasize that his company is looking for quality builders who want to help meet the demand for safe housing. "The Defender system is easy to learn, there is no franchise or license fee, and training is free. With these new insurance discounts a home rated to withstand 200mph winds is now an economic reality, for starter homes, mid-level homes and for the high-end luxury homes."
Dixon went on to say, "and it's not just the coastal areas that can benefit from Defender's building process, homes in 'tornado alley', homes in areas subject to wildfires or even earthquakes can be built economically and provide safety that just wasn't economically available before," he added.
Interested parties may learn more and contact Defender via its website.
About Defender Technologies
Defender Technologies is the US distributor of a patented and proven system to withstand natural disasters. While just introduced recently to the US, over 60,000 homes and structures have been built in 14 countries over the past 15 years. The Defender process can affordably protect against; hurricanes and tornadoes, wildfires, termites and carpenter ants, mold, mildew and water incursion, sinkholes, and earthquakes (up to 7.0 on the Richter scale) and even small arms fire (handguns and small bore rifles up to an M16).
FORWARD LOOKING STATEMENTS: This document may contain forward looking statements protected by the Private Securities Litigation Reform Act of 1995, as amended. Actual results may differ from those results indicated by forward looking statements. Investors and other readers of this document should not rely on forward looking statements in making investment decisions or assume results will be as indicated by forward looking statements.​