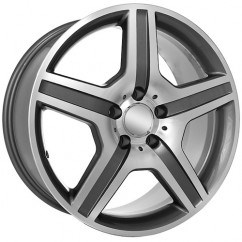 San Diego, California (PRWEB) January 17, 2014
Buyers considering compact luxury vehicles will usually have the Audi A4 and the BMW 3-series on their list, as well as the C-class. While the latter is all-new for the 2015 model year, owners who cannot wait for the new generation of Mercedes Benz C class models can upgrade the look and performance of their existing Benz's with Mercedes replica wheels from leading wheel manufacturer UsaRim.
The newest C-class is expected to be 220 pounds lighter than the outgoing model and yet the company has informed prospective buyers that it will be larger than older variants. Auto industry experts call this "model bloat" and it is the reason why older vehicles can be many inches less wide and up to a foot or more shorter. For people who live in cities or built-up areas, this makes navigation difficult and parking even more. UsaRim offers new, lightweight wheels for Mercedes Benz, shaving off the total wheel weight by up to 50%.
Lightweight Mercedes Benz replica rims are offered by UsaRim, a San Diego-based company that sells wheels and tires online and ships worldwide. UsaRim offers free shipping, easy returns, 7/365 customer service and the lowest price anywhere online, guaranteed. Customers can now save an additional 5% off UsaRim's already low prices by using the code 5off at checkout or when calling customer service.
More and more Mercedes-Benz models are on the road as sales for the automaker are at an all time high. While many people will want to take a look at the 2015 Mercedes Benz coupe, sedan and SUV offerings, upgrading their existing cars with replica wheels from UsaRim is a great way to breathe new life into their cars without spending tens of thousands of dollars to get a few new features in the updated models.
Buyers considering aftermarket wheels and tires can visit UsaRim's online showroom for a variety of sizes and designs that fit many buyers' needs and budgets. Staff can help existing car owners with their years of combined experience helping consumers finding the rims that they want for their vehicle.
-----
About UsaRim: UsaRim has built a reputation for providing the highest quality aftermarket wheels, tires and wheel/tire combinations on the market. The company offers Mercedes wheels, as well as options to fit BMW, Honda, Mazda, GMC, Cadillac, Volvo, Volkswagen, Toyota, Porsche and more.