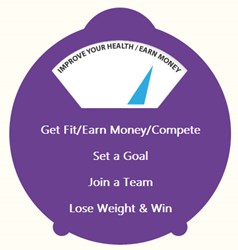 Aliso Viejo, CA (PRWEB) January 15, 2014
Two groundbreaking studies released this year show that financial incentives, especially through group competition, boost weight loss. Drawing on these findings and the influence of social media, Competitive Wellness Challenges has introduced Meltdown Challenge in order to help people lose weight socially, while earning money. In an effort to encourage healthy living more broadly, challenges are also available to help users quit smoking, manage stress and lower cholesterol.
Through this innovative social media platform, competitors pool money and set a goal that they must meet in order to share in the winnings. For weight loss challenges, the goal will range between losing two and six percent of body fat. Participants weigh-in privately at the very beginning and end of a challenge, using a secure and verified online system. During the challenge, participants log on daily to post their triumphs and letdowns. They can browse a recipe library, hear inspiring health mantras and fitness tips from challenge leaders, and encourage competition by showing off their progress. Through engagement and the promise of splitting the winner's pool, participants stay motivated, lose weight, earn money and have fun.
Backed by Science: According to a study by the Mayo Clinic, dieters lose nearly four times as much weight when there's money on the line. In a University of Michigan study comparing dieters who pooled money and split the prize to dieters with individual financial incentives, those in the group competition lost nearly three times more weight.
How it works: Anyone can initiate or join a challenge via http://www.MeltdownChallenge.com. Challenges range from four to 12 weeks in length and require at least three participants. They can be by invitation-only or open to all.
About Competitive Wellness Challenges
Competitive Wellness Challenges introduce and unite like-minded individuals with similar goals to achieve greater success. People lose three times more weight as part of a group than on their own, and if they compete as a group against another group they are five times more successful. Add to that the promise of a winner's only payout, and your odds for success just jumped through the roof! Meltdown Challenge was created to bring social media to the never-ending weight loss arena. It's a new way to melt extra pounds, cholesterol and stress (and yes, we even have competitive challenges to quit smoking).