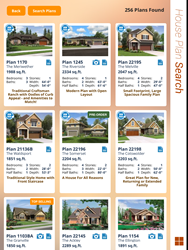 Find your Dream Home and take it for a 360 Degree spin
Portland, OR (PRWEB) January 16, 2014
Find your dream home and take it for a spin with 360 degree interactive renderings in the Living Spaces app now available from Alan Mascord Design Associates - The Pacific NW's favorite home designer. New Tools in this fourth edition of Living Spaces - originally featured by Kevin Lynch during his 2011 Adobe Max keynote speech - include a full plan search tool, and photo showcases of appealing Entrances and designer Bathrooms. Home plans feature include a stylish French Country design "The Terrebonne", and an award-winning design created for the NW Natural Street of Dreams.
Alan Mascord, the company's President, said: "We've always been on the forefront of innovation, both with our home designs and our use of technology. We think the iPad is a wonderful way to present our designs and we are delighted to launch this app in our 30th year of business. This app has functionality at its heart, with the opportunity to create a truly immersive experience for the reader and revolutionize the house plan selection process. It offers incredible value for money and should be the first app iPad-owning builders and prospective homeowners download."
AMDA's other titles include the popular hard backed book 'Mascord Efficient Living' (ISBN 0978811313 ) available on amazon.com and barnesandnoble.com.
Mascord Living Spaces can be downloaded for iPad on the App Store.
Device Requirements: iPad, iOS 6 or later.
Pricing and Availability: 'Living Spaces 4' is free, and available worldwide exclusively through the App Store in the Lifestyle category.
About Alan Mascord Design Associates Inc:
Since 1983, Alan Mascord Design Associates, Inc. has been designing custom homes, stock home plans, and providing marketing and technical support to clients and hundreds of homebuilders nationwide. By balancing architectural perfection with the need to be practical, award-winning home designer Alan Mascord has assembled a creative team with the talent to identify trends in American home styles and the skills to translate them into designs that are beautiful, efficient and easy to build. Mascord's designs have gained national attention gracing the covers of magazines such as Builder, Better Homes & Gardens® and House Beautiful.