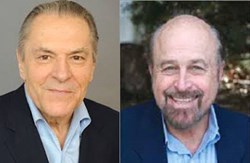 Palo Alto, CA (PRWEB) January 15, 2014
Sofia University, the birthplace of graduate transpersonal education, and the Association for Transpersonal Psychology (ATP) will co-host a one day Global Transpersonal Symposium on Saturday, February 8, 2014, from 9:00am-7:00pm at Sofia University in Palo Alto. The symposium will bring together the Association for Transpersonal Psychology (ATP), European Transpersonal Association (EUROTAS) and the International Transpersonal Association (ITA). This years theme is "Unity Within Diversity." Two luminaries in the field of transpersonal psychology, Stanislav Grof, M.D., Ph.D. and James Fadiman, Ph.D., will open the day with keynote speeches.
Stanislav Grof, M.D., Ph.D., is a psychiatrist, one of the founders of transpersonal psychology and founding President of the ITA. He is known for pioneering the research of non-ordinary states of consciousness for purposes of exploring, healing, and obtaining growth and insights into the human psyche.
James Fadiman, Ph.D., is a founder of ATP, helped found Sofia University (formerly the Institute of Transpersonal Psychology) and is best known for his research involving the use of psychedelics for spiritual, therapeutic and problem-solving purposes. Through his teaching, consulting, speaking and writing Jim helps himself and others remember how interwoven we are with the rest of the natural world.
"We are thrilled to have true transpersonal pioneers like James Fadiman and Stanislav Grof opening the symposium and supporting the expansion of transpersonal psychology around the world," says ATP Co-President, Steven Schmitz.
There will also be 3 panel presentations on the application of transpersonal psychology to research, education and practice. During the conference, attendee's can expect to hear from the presidents of ATP, EUROTAS and ITA. After each panel discussion there will be time allotted for dialogue between the guest speakers and the audience.
For more information and event registration please visit: http://sofia.givezooks.com/events/global-transpersonal-symposium-unity-within-diversity-2.
About Sofia University
Founded in 1975, Sofia University (formerly the Institute of Transpersonal Psychology) is a private, non-sectarian university accredited by the Western Association of Schools and Colleges. For over 35 years, within the context of scholarship and research, the school has offered transformative education for the whole person, probing the mind, body, spirit connection. As Sofia University, the school is broadening its mission, reaching into multiple disciplines and adding undergraduate study. For more information, visit http://www.sofia.edu.
About ATP
The Association for Transpersonal Psychology (ATP) is a membership supported international coordinating organization for scientific, social and clinical transpersonal work that serves the world community. The Association's mission is to promote eco-spiritual transformation through transpersonal inquiry and action. Recognizing the reciprocity inherent between our actions and our world, the Association is dedicated to encouraging and enhancing practices and perspectives that will lead to a conscious, sustainable, co-evolution of culture, nature and society. http://www.atpweb.org
For media inquiries, please contact:
Tia Jackson
Communications Specialist
Sofia University
P│650.493.4430 │ext 249
E│tia.jackson(at)sofia(dot)edu
Event Contact:
Steven Schmitz, Ph.D.
Email: globaltranspersonalsymposium(at)gmail(dot)com