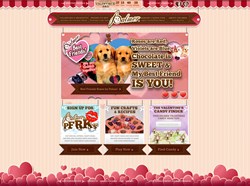 Palmer's goal with the Making Candy Fun page this season is to produce fun recipes and crafts for Valentine's Day that cost ten dollars or less to make.
Reading, PA (PRWEB) January 15, 2014
R.M. Palmer Company announces the launch of its first Valentine-themed website filled with new products, affordable recipes and crafts, Valentine's Day eCards and a candy locator.
After aggressively launching four other holiday themed websites and a corporate site in 2013, Palmer rolls out its fifth and final holiday-themed website for Valentine's Day in its year-long marketing effort aimed at engaging consumers with the Palmer brand online and on social media. The candy maker seeks to add value for visitors by featuring its candy in fun, Valentine-themed ways that consumers can easily recreate at home by making affordable recipes and crafts to share with their Valentine. For instance, Palmer's "Bee My Honey Candy Dish" craft creates a homemade bee-themed candy dish using a bag of Palmer Valentine Variety Mix Hearts, one Palmer 'Bee' Zoo Crew Pop and two clay pots - all at a cost of ten dollars. Another convenient feature includes The Candy Finder, which assists Palmer candy lovers in locating nearby retailers carrying their Valentine's Day products, including new Best Friends Friendship Exchange Bags and Strawberry Hearts. The site also allows Palmer enthusiasts to sign up for the confectioner's loyalty program, Palmer Perks, which delivers special offers and the opportunity to be the first to learn about new products and contests to nearly 32,000 consumers.
"Palmer's goal with the Making Candy Fun page this season is to produce fun recipes and crafts for Valentine's Day that cost ten dollars or less to make," said David Abramson, Director of Sales & Marketing for R.M. Palmer. Mr. Abramson continues, "If we create fun products and deliver them at a value that gives consumers more for their hard-earned money, then we have not only supported our mission of Making Candy Fun but provided added-value to our loyal consumer base. Which is why for Valentine's Day, we're also offering a large selection of Valentine's Day eCards that gives consumers simple yet fun ways to share valentines online and on social media - absolutely free."
In addition to the new website, Palmer's Facebook page is also Making Valentine's Fun. With nearly 20,000 LIKES, it is engaging fans with its highly successful "Name That Couple" campaign. Each week fans are asked to guess what couple is featured on a series of iconic couple-themed posts that were parodied by Palmer's collection of hollow bunnies. One such post is based on the musical Grease, immortalizing Sandra Dee and Danny Zuko as hollow chocolate bunnies.
ABOUT RM PALMER COMPANY
R.M. Palmer Company has been crafting fun, seasonal chocolate novelties since 1948. Today, the R.M. Palmer Company is considered one of the top 75 confectioners in the world. From their headquarters in West Reading, PA, Palmer's 850 dedicated employees design, produce, package and ship more than 500 unique items to nearly 100,000 retail locations in North America - making it one of America's largest and most innovative confectioners. For more information about R.M. Palmer Company, visit http://www.rmpalmer.com.