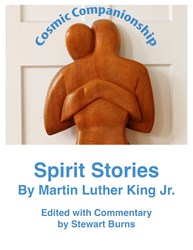 Williamstown, MA (PRWEB) January 15, 2014
The newest publication by award winning MLK biographer Stewart Burns is a narrative anthology of Dr. King's spiritual teachings that speak to our times of peril and promise. A nationally renowned civil rights historian, Burns was formerly an editor of the King Papers at Stanford University, where he had unparalleled access to the entire body of MLK's sermons, speeches, and writings and was honored to conduct deep thorough research on Dr. King's religious background and training, his spiritual expressions of all kinds, and his efforts to create his own theology of action that he called "soul force." This remarkable, concise anthology of spiritual teachings is the fruit of Burns' many years of scholarship on MLK.
Professor Burns produced the third volume of the King Papers, Birth of a New Age, 1955-1956, on the Montgomery bus boycott period; the first history of the bus boycott, Daybreak of Freedom, which was made into the HBO feature film Boycott, winner of the NAACP Image Award; and his Wilbur Award-winning biography of MLK, To the Mountaintop (HarperCollins).
To the Mountaintop was the first MLK biography to explore how his spiritual journey and his spiritual teachings inspired and energized his extraordinary civil rights and human rights leadership. In Cosmic Companionship Professor Burns has applied his knowledge and insights about Dr. King's spiritual strivings to compile a tightly woven anthology drawn from his sermons and writings. The first part, "Sin Sick Souls," offers MLK's interpretations of the problems, crises, and perils that we faced in his own lifetime and that we still face today. The second part, "Balm in Gilead," offers King's solutions, his perspectives on how we can find "ways out of no way," as he liked to say, to challenge and overcome our personal, social, and global crises—the storm of crises that imperils the future of humanity and our planet.
Cosmic Companionship can be read as a spiritual self-help guide for our own lives and aspirations, intended for readers of all ages and backgrounds, but especially essential for clergy and all people of faith for sermons, presentations, counseling, and everyday practice.
Professor Stewart Burns, a longtime nonviolent activist for social justice, human rights, and peace, shares leadership of the Center for Learning in Action at Williams College. He has taught history and leadership studies at Stanford, Antioch University, and Williams.
Please visit his website, http://www.StewartBurnsHistory.com to order Cosmic Companionship or any of his other King-related books, including the recently published "We Will Stand Here Till We Die": Freedom Movement Shakes America, Shapes Martin Luther King Jr. (2013).
You can contact him directly at Stewart(at)StewartBurnsHistory(dot)com