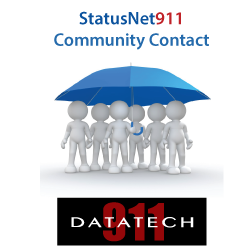 In order to be better prepared for any crisis, we encourage every municipality to learn more about implementing StatusNet911 Community Contact.
Greenbelt, MD (PRWEB) January 28, 2014
DataTech911 is pleased to announce the release of StatusNet911 Community Contact, a web-accessible system designed to track residents who have been evacuated or otherwise displaced and separated from their loved ones during large emergency events.
During large scale emergencies where community members are displaced from homes or schools, StatusNet911 Community Contact provides an easy to navigate web-based registration system. Authorized personnel at emergency shelters, schools, houses of worship, hospitals, police stations and other locations, which are commonly used as shelter sites during an emergency, will be able to quickly identify and register displaced families and individuals.
The StatusNet911 Community Contact database will be immediately available to authorized personnel and agencies within the municipality to help process inquiries from family members and loved ones trying to locate missing family members, friends, and neighbors during an emergency.
According to Swati Allen, ElanTech's President, "Many hours or even days can go by while family members, both locally and in other States, frantically try to reconnect with their loved ones when separated during a disaster. We are therefore pleased to offer StatusNet911 Community Contact free of charge to any State and Local Government interested in providing this valuable service to their constituency. In order to be better prepared for any crisis, we encourage every municipality to learn more about implementing StatusNet911 Community Contact."
StatusNet911 Community Contact may be used on a standalone basis or integrated with StatusNet911 to also track individuals who have been triaged on scene and transported by ambulance to a medical facility for emergency care.
StatusNet911 is a web-accessible system linking individual emergency response agencies and coordinators in a single, easy-to-use county-wide application. Emergency communications personnel can monitor hospital diversions and multi-casualty incidents. Base hospitals and incident commanders manage MCI's and distribute field patients via the StatusNet911 interface. Custom alerts can be sent via pager, e-mail, or through the StatusNet911 application. Law enforcement BOLO and Amber Alert notifications also take advantage of the StatusNet911 pre-hospital and hospital alerting system. Dispatch center Computer Aided Dispatch (CAD) data can be integrated into StatusNet911 to provide real-time tracking of emergency incidents and unit locations.
StatusNet911 Community Contact integrated with StatusNet911 provides a complete community solution during a disaster. Interested officials should contact Bob Garber, Bob(dot)Garber(at)elantech-inc(dot)com, (719) 488-3209 or visit DataTech911 to find out how to acquire StatusNet911 Community Contact free of charge and to learn more about integrating it with StatusNet911.
DataTech911, a division of ElanTech, provides products and technologies which enhance the speed and effectiveness of emergency medical response, improve response systems management with advanced analysis tools, communications capabilities and more.