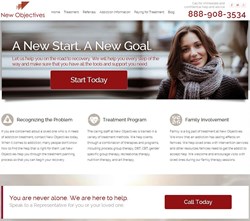 Our site now gives an accurate portrayal of who we are and how we can help those struggling with addiction.
(PRWEB) January 27, 2014
New Objectives is excited to announce the launch of its new website. The site has been completely redesigned in order to be more user-friendly for those who are looking to New Objectives for help with an alcohol or drug addiction.
Visitors to the new, more modern website will learn about the luxury rehab program that the center offers and see pictures of its modern facilities. Located near the coast in West Palm Beach, Florida, New Objectives prides itself in treating guests to the best amenities. The treatment center offers high quality rehab to men and women struggling with drug or alcohol addiction, and has a special treatment program for pregnant moms.
The New Objectives website can be found at http://newobjectives.com/.
The site explains in detail the treatment center's philosophy, including its goal of providing a safe and secure recovery setting, and providing clients with a treatment plan that will help prevent relapse. The New Objectives staff is committed to using every available resource to help clients recover, and provides long term and continuing care services to those in need of additional treatment.
In addition to information about New Objectives, the new website also contains useful information about addition treatment and prevention in general. Its blog features articles about current topics from the addiction field, and keeps readers up to date about the latest trends in addiction and recovery.
New Objectives is on Facebook, Twitter, and Google Plus. Visitors can also find links to its social media pages on the new website.
The New Objectives website has been completely rewritten and is now more relevant and easier to navigate. New Objectives CEO is enthusiastic about the redesign and its ability to serve a wider audience.
"The website redesign has been a positive process for all of us at New Objectives," Santiago said. "Our site now gives an accurate portrayal of who we are and how we can help those struggling with addiction. It is also full of useful information for those wanting to learn more about the treatment of drug and alcohol addictions."
New Objectives is a luxury treatment center located in beautiful West Palm Beach, Florida. Guests of the treatment center will find a staff of caring, compassionate individuals that have clients' best interests in mind. New Objectives offers the highest quality of care, and is fully licensed by the state of Florida. The goal of the treatment center is to make sure clients have the tools and support they need to fully recover.
To learn more about New Objectives, visit http://newobjectives.com/.