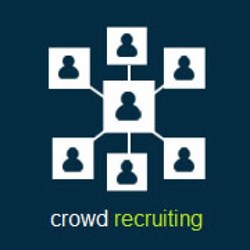 Boston, MA (PRWEB) January 15, 2014
Crowd Recruiting Corporation announces the launch of its new crowd sourced recruiting platform Crowd Recruiting. This unique service provides a marketplace for recruiters to come together to fill all of their unfilled job requirements.
Crowd Recruiting has developed an hr technology service where recruiters can compete to work on job orders through competitive proposals. Access to the Crowd Recruiting platform is cost effective and offers low transaction fees to meet the competitive demands of its users.
Recruiters simply don't fill all of their job orders and its leaving the sales team and the hiring managers frustrated. With the launch of the new HR technology from Crowd Recruiting, recruiters can improve hiring and lower costs when they post those hard to fill job orders in the on-demand worldwide recruiter network. The Crowd Recruiting platform is for recruiters only and recruiters from North America, Europe and Asia have eagerly registered so they stop losing commissions.
Some of the top benefits of Crowd Recruiting include:

Recruiting professionals fill more job orders
Find job orders for candidates they already have
Compete to work on the best job orders, lowering recruiting costs
Available to independent recruiters, freelance recruiters, corporate recruiters, agency recruiters and RPO's
Supports hiring managers and human resource departments
"Seventy-five percent of all job orders given to a recruiter go unfilled," Crowd Recruiting Founder and President Mike Achilles said. "The Crowd Recruiting platform gives those job orders a second chance by bringing in the best recruiters from around the world to crowdsource the perfect candidate in a competitive marketplace."
To sign up for a free trial, visit https://www.crowdrecruiting.com.
About Crowd Recruiting
Crowd Recruiting is a crowd sourced recruiting platform provided by the Crowd Recruiting Corporation, a U.S.-based private company. It is an HR technology service that is used in conjunction with applicant tracking systems. The crowd sourced recruiter tracking system provides a marketplace for recruiters to come together to fill the jobs they could not fill otherwise. Crowd Recruiting also provides recruiting professionals additional revenue streams by working on job orders they know they can fill.
Contact:
Crowd Recruiting Corporation
265 Franklin Street, Ste 1702
Boston, Massachusetts 02110
Telephone: +1 617 807-0731
Website: http://www.crowdrecruiting.com
Email: press(at)crowdrecruiting(dot)com
Twitter: @crowdrecruiting
LinkedIn: http://www.linkedin.com/company/crowd-recruiting-corporation
YouTube: https://www.youtube.com/watch?v=VXluRsSzik8