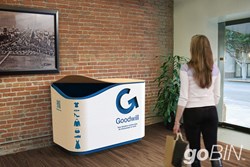 "We'll target putting a Goodwill goBINTM in every big residential building in the city to make donating textiles an everyday convenience. Donations create local job opportunities for the chronically unemployed," said SF Goodwill CEO Maureen Sedonaen.
San Francisco, CA (PRWEB) January 15, 2014
SFGoodwill is launching a new initiative that will make donating textiles as convenient as dropping a bottle in a recycling bin. Designed to serve multi-unit apartment towers, the Goodwill goBINTM lets residents donate – and do good – without leaving their buildings. Clothing, shoes, and accessories can be dropped in anytime, eliminating the weekend trip to Goodwill.
frog, the global product strategy and design firm, developed the goBINTM design in collaboration with the SFGoodwill internal brand team. Said Creative Director Peter Michaelian, "We were inspired by the idea of creating a bin that added to the character of a building while providing great concierge service. The form factor is friendly, welcoming the donor with a smile, while leveraging technology that enables a seamless and simplified experience for donors and facility managers to interact with Goodwill."
Via the QR code on the goBINTM, donors will access an online donation tax form and learn more about how their donation is helping put local people in need back to work through SFGoodwill. A sensor inside the bin pings Goodwill for pick-up before it reaches capacity, ensuring that the bin stays tidy. An internal rolling cart system will enable Goodwill drivers to service the bin in less than five minutes per trip.
Why textiles? On average, each American sends an astonishing 70 pounds of textiles to the dump every year. In San Francisco, that translates to 4,500 pounds of textiles entering our landfills every hour, making up 5% of the total volume of waste. The goBINTM will help the city meet its ambitious "Zero Waste by 2020" goals.
The SF Department of Environment helped kick-start the Goodwill goBINTM initiative by funding an innovative partnership grant between SFGoodwill and the city's building-owner trade association. Leveraging the association's communication network of property managers, Goodwill will be placing the goBINs in selected hi-rise towers this year, focusing initially on buildings of 100 units or more.
Building owners are enthusiastic about offering the new amenity to residents. "I am looking forward to getting this new bin for our residents and continuing to support the mission of Goodwill. I used to keep clothes left behind by departing residents in a storeroom until I had time to take them to Goodwill myself," said Linda Corso, property manager of the Cathedral Hill Plaza high-rise on Gough Street. "Having the Goodwill bin on site will make life easier both for my residents and for me. It is win for all."
Said SFGoodwill CEO Maureen Sedonaen, "We'll target putting a Goodwill goBINTM in every big apartment and condo building in the city within 5 years to make donating textiles an everyday convenience. Every shirt, shoe and purse slipped into a goBIN will help us create local job opportunities for the chronically unemployed."
More than 80% of Goodwill's job training, job placement, and employment partnerships are funded from the sale of goods donated by generous residents of the chapter's three counties. Sending these textiles through the local loop of Goodwill – versus allowing for-profit companies to whisk them away for overseas sale - keeps jobs and payroll taxes where they can do the most good for the local community.
"Convenience is the most important factor for people deciding what to do with the items they no longer need," said SFGoodwill Director of Donations Leslie Bilbro. "Paradoxically this is why many textiles end up in landfill; historically, it's just been easier to throw them away. Responding to today's urban lifestyle, our Goodwill goBINTM will help people do the right thing for the environment and for their fellow residents in need."
SFGoodwill intends to manufacture the patent-protected design locally using recycled materials. The social enterprise is accepting pre-orders for the free goBINs from local building managers. Following a pilot phase, full-scale production may serve donors at other Goodwill chapters around the country.
Contact:
Tim Murray
VP of Brand, Marketing & Communications
415.575.2261
Additional Industry Experts Available for Comment:
Dr. Connie Ulasewicz ("oo-la-SAY-vich")
CBU2(at)Comcast(dot)net, (cell) 650.245.1805
Associate Professor at San Francisco State University in Apparel Design & Merchandising, 25-year veteran of SF fashion industry, and co-author of Sustainable Fashion: Why Now.
Lynda Grose
LyndaGR(at)aol(dot)com, (cell) 415.309.8210
Author of Fashion and Sustainability: Design for Change and lecturer of California College of Art on sustainable fashion.
***
About SFGoodwill
Goodwill Industries of San Francisco, San Mateo and Marin Counties opens doorways to jobs for local people in need. Approaching its centennial in 2016, SFGoodwill continues to innovate through its eCommerce, specialty boutique, family store, and salvage businesses – which fund local job training, job placement, and employment opportunities that give people a second chance at a sustainable livelihood. Using the proven methods of The Goodwill Way, the enterprise focuses on people who are coming out of jail, off the streets, out of addiction and displaced from other countries, and helps them transform their lives through the power of work. In the next 12 months, more than 600 local people will get jobs through SFGoodwill and another 5,000 will be readied to rejoin the job market. Learn more at http://sfgoodwill.org.