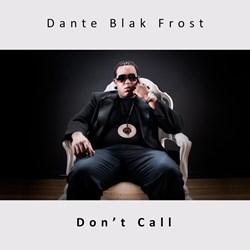 New York, NY (PRWEB) January 15, 2014
Coast 2 Coast Mixtapes announces the release of the "Don't Call" single by Dante Blak Frost. The song is currently available for download.
Dante' Blak Frost, real name Darrin C. Lane, was born in the neighborhood of Brownsville, Brooklyn, but moved to Bedford Stuyvesant, NY in the winter of 95'. Blessed with the ability to paint audible images with his words at the early age of 11, Dante gaining recognition among his peers and was given the name "Dante" combined with his pseudo name "Blak Frost" that came about from a line in one of his early rhymes. "In it for the win and never taking a loss cuz my skin color is black and I'm cold like frost"
"Don't Call" is the first single from Dante's debut album "Fallen From Grace". The single begins with a provocative hook accompanied by deep bass, which is sure to capture your attention. The introduction of minimal melodic themes accompanied by aggressive lead synth dances around the big clap and hard hit of the snare to weave the beat into an old school groove.
"Don't Call" is the perfect introduction to "Fallen From Grace" which tackles the human condition such as betrayal in relationships, broken families, making mistakes, financial hardship, bullying, loss of faith, death, and loneliness. This diverse and authentic artist does not only focus on the struggles of life but also touches on hope, learning from mistakes, forgiveness, and overcoming adversities. Learn more about Dante' Blak Frost on his official website, DanteBlakFrost.com.
About Coast 2 Coast Mixtapes:
Coast 2 Coast Mixtapes are the most widely distributed mixtapes in the world, with over 100 million downloads/plays generated by over 200 volumes officially hosted by major artists. Coast 2 Coast has a solid reach in the new music industry with a digital magazine, DJ coalition, industry tips blog, yearly convention, and more. Coast 2 Coast Mixtapes represents a unique opportunity for artists of all urban genres, from major to indie. For more information, visit http://www.coast2coastmixtapes.com.