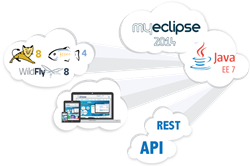 With ready-to-go libraries and wizards enabled for the new JEE standards, MyEclipse 2014 has made adoption of Java EE 7 simple for developers.
Dallas, Texas (PRWEB) January 15, 2014
Genuitec, LLC, a pioneer in cloud-based development technologies, is proud to announce the adoption of Oracle's Java EE 7 platform into the MyEclipse 2014 workbench. Programmers may now immediately consume Java EE 7 technologies, pull from the new Java EE 7 API catalog and deploy to popular servers already supported by MyEclipse 2014 - like Tomcat 8, Glassfish 4, and Wildfly 8.
"MyEclipse 2014 was specifically designed to coincide with the richer functionality of Java EE 7, while bringing higher productivity and a deeper integration of HTML5 into your development," said Brian Fernandes, product manager for MyEclipse at Genuitec. "Now customers can use Java EE 7 enabled mobile tools offered in MyEclipse 2014 to push productivity further and write cross-platform HTML5 apps."
Need to learn more about why Java EE 7 is important? Watch a quick video here.
With ready-to-go libraries and wizards enabled for the new JEE standards, MyEclipse 2014 has made adoption of Java EE 7 simple for developers, allowing them to focus on design and keep productivity moving expeditiously with MyEclipse tools. Now, developers will be able to pull in open source tooling, Eclipse plug-ins and custom applications into MyEclipse 2014 to simply add Java EE 7 support to those applications, while harnessing the benefits of MyEclipse tools that give developers the ability to code once and for all with rapid-prototyping and design capabilities.
MyEclipse 2014 bridges the gap between modern web and mobile app development with core technologies for Java developers, offering programmers a modern application development platform that is integrated with Java EE 7 supported tools like JSON, Ajax, HTML5, and Websockets. By including support for Java EE 7, MyEclipse 2014 connects developers with backend development and services for HTML5 and JSF that are ready out-of-the-box.
MyEclipse 2014 libraries and wizards have been expanded to incorporate the full Java EE 7 API catalog, letting developers quickly leverage APIs in development for desktop, web, mobile and cloud. Developers will also be able to sync Genuitec Mobile Tools with the Java EE 7 APIs, add in REST Web Services or Cloud APIs, and connect with tools already made for Java EE 7.
Subscriptions to MyEclipse start at $32 annually with options for advanced add-ons available, including WebSphere and Spring connectors, and enterprise management options. For a detailed look at all MyEclipse options, please review our Features page. All MyEclipse 2014 editions are available at: http://www.myeclipseide.com, and come with a free 30-day trial. Free trial users and those with current subscriptions receive all updates at no cost; enhanced service agreements are now available and vary in cost.
About Genuitec
With year-over-year growth since the company was founded in 1997, Genuitec follows a "Cloud Control" approach and continues to expand by offering superior products to enterprises at value-driven cloud prices. With a laser focus on cloud and mobile development for the enterprise Java user, its products are used by more than 17,000 global enterprises which include 80 percent of Fortune 500 companies.
Genuitec maintains a vibrant community through its support forums where users engage directly with staff to answer any number of technical needs. Genuitec is constantly evaluating market opportunities for new areas of growth and expansion of its current application life cycle management and mobile tools; in addition, Genuitec has launched a new product in each of the last 5 years. As a fully-distributed and virtual workforce, the company maintains a low overhead, yet attracts the most talented software developers.
Genuitec is based in Flower Mound, Texas and is founding member of the Eclipse Foundation along with IBM, Intel and HP.
Please follow Genuitec's latest news by joining "MyEclipse" on Facebook and on Twitter @MyEclipseIDE and @Genuitec.