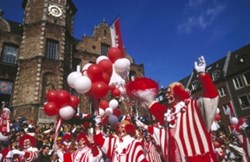 One of the best destinations in Europe for serious party seekers in the winter.
Düsseldorf, Germany (PRWEB) January 15, 2014
Düsseldorf is preparing for Rose Monday on March 3, 2014, the rip-roaring conclusion of almost 4 months of carnival events and costume balls all over town. But three months of parties have nothing on Rose Monday, when a million people come out to party and bring out the city's most lively side. The entire city will be one big carnival party and becomes one of the best destinations in Europe for serious party seekers in the winter.
To jump into the carnival madness, travelers can hop on a plane (there are non-stop flights to Düsseldorf International Airport (DUS) from 7 North American cities), and be in the thick of things mere minutes after landing.
The Rhine region is known as Germany's center of carnival festivities, or Rhenish Carnival, and carnival in Düsseldorf is one of the strongholds. Carnival is not just one day, but a whole season, called Fools' season, and always kicks off on November 11. It ends on Ash Wednesday (the beginning of Lent: March 5, 2014). The season culminates in Rose Monday, its highlight. The city has no fewer than 60 carnival clubs, and their members are among the 5,500 parade participants who also make up more than 40 bands and 60 floats. One million people, many dressed up in costumes and called fools, line up to watch the Rose Monday parade, shout "Helau" (the local carnival greeting), and catch the candy (called "Kamelle") that is thrown into the crowds from the floats. The parade is more than a mile and a half long.
Because of Düsseldorf's 260 bars, pubs, and restaurants in the city's historic Old Town, the city is also known as "the longest bar in the world." And these venues become the backdrop for the extended festivities as the parade spills into the entire city and the revelers take over.
In addition to the parade, there are several street carnivals: the "Old Ladies' Carnival" on February 27, when women take over city hall and cut men's ties off with scissors, a "Youth Procession" on March 1, a family-oriented "Carnival Sunday" on famous shopping boulevard Königsallee on March 2, and a "Barrel Race" with people in barrels racing, on March 2.
Miraculously, the city is back to its civilized self two days after Rose Monday, on Ash Wednesday, when Lent begins, and with it the long wait until the Carnival season kicks off again the next November.
Through 2014, Düsseldorf's tourism office is offering hotel and city specials for this and other of the city's major international events. Packages can be booked right from the tourism office's website at http://www.duesseldorf-tourismus.de/en/hotel-packages/duesseldorf-a-la-card. Prices start at €49 per night per person based on double-occupancy for a 2-3 star hotel in the city center and at €95 per person for a 4-5 star hotel. All packages include breakfast, a Düsseldorf Welcome Card (free public transportation within city limits plus 30 free or reduced admissions to city attractions), and a city information package. Please check the website for current information.
For more information about Carnival in Düsseldorf, please visit http://www.comitee-duesseldorfer-carneval.de/de/.
###
Düsseldorf Marketing & Tourism GmbH is the visitors and convention bureau of the city of Düsseldorf. Its responsibilities include tourism and city marketing, as well as conference and meeting marketing, hotel reservation services, fairs and convention services, city event ticket sales and advance ticket reservations. For more information, visit http://www.visitduesseldorf.de.
Düsseldorf Airport, Germany's Next Generation HubTM, offers several non-stop flights from US & Canadian cities (Atlanta, Chicago, Ft. Myers, Los Angeles, Miami, New York, Newark, Toronto), as well as convenient connections to many European cities. For more information about the airport, visit http://www.fly2dus.com.