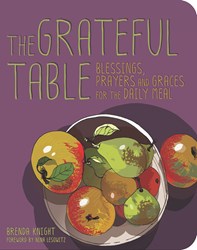 Wow, life is good. —Alicia Keys
(PRWEB) January 16, 2014
Brenda Knight is the publisher and founding editor of Viva Editions, an imprint of Cleis Press. One of her favorite practices is the act of cultivating gratitude, which is highlighted in her new book, The Grateful Table: Blessings, Prays and Graces for the Daily Meal. Brenda was recently interviewed on KPFA's Cover to Cover with Denny Smithson.
Saying grace is one of our loveliest traditions. The Grateful Table (also available as an audiobook) offers 365 beautiful blessings for every day of the year. From 18th-century prayers for Thanksgiving to devotionals from the world's wisdom traditions and sincere expressions of thankfulness by Alton Brown, David Foster Wallace, Jack Kerouac, Shirley MacLaine, Dave Eggers, Sheryl Crow, Neil Gaiman and Alice Walker, The Grateful Table shows us the way to begin every meal with an open heart.
Part of the proceeds from book will go to BOSS, Building Opportunities for Self-Sufficiency, a California network offering housing and support services.
What people are saying about The Grateful Table:
"Knight has lit the path of gratitude and spurred us to make this important spiritual practice the center of our lives. The quotations, exercises, and inspirational passages reveal the author's deep understanding of the bounties of spirituality put into our relationships, activities, and rituals."
—Spirituality and Practice
"How lovely to see through Brenda's offering that gratitude is the wonderful feeling we can have all year long."
—Love Letters Live
"Giving thanks is not only becoming a popular mainstream spiritual practice, it has also been taken up by those working with universal law to attract abundance. Brenda Knight reminds readers of The Grateful Table that giving is an important part of gratitude practice."
—Retailing Insight Magazine