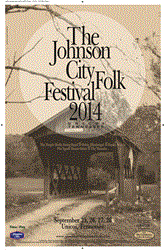 'The only Festival we know of that has an authentic, hand-hewn covered bridge as its front door... amazing!' Steve Madsen, US FESTIVAL NEWS
(PRWEB) January 22, 2014
It's January and folks at The Johnson City Folk Festival are already focused on September.
That's what happens when you have the proverbial Tiger By The Tail. That Tiger is The Johnson City Folk Festival, and as a regional force, its reach is growing by leaps and bounds.
What's not immediately evident - but clearly in the air - is the feeling by everyone in the region that this little start-up could very possibly be the next big "Festival" - the next big addition to the region's list of "cannot miss" Festivals for 2014.
The latest addition to the JCFF is the new 2014 Folk Festival Poster. It has been well received and downloaded hundreds of times since being posted on January 10th. The poster features the hand-made Covered Bridge that leads over Buffalo Creek into the Festival grounds.
The Covered Bridge is owned by The Farmhouse Gallery and Gardens on whose property the Folk Festival took place last season. The Festival will occur again this year at the Farmhouse Gallery and Gardens location. The Folk Festival dates are September 25, 26, 27 and 28
Plans are in the works as well for a dedicated digital or pirate radio station; a regular digital station is preferred, but the East Tennessee history of moonshine running and evading the revenue men means clearly nothing is out of the question.
Stay tuned.
The Meadow Stage is taking shape and the outdoor area will seat between 5,000 - 10,000; this means an opportunity for large-draw acts both locally and nationally. This also gives the Festival a 5 Stage capacity.
Submission forms are available and submissions will be accepted up to July 1st; entries received after that date will be reviewed for stand-by available spots only if the schedule is full.
The Johnson City Folk Festival, Inc. © 2011, All Rights Reserved. Respective trademark and copyright laws protect the Johnson City Folk Festival and The Chet Atkins Guitar Competition. The Johnson City Folk Festival can be reached at 202-255-1995, All correspondence should be directed to:
The Johnson City Folk Festival in Unicoi, TN
106 Unicoi Village Place, Unicoi, TN 37692-0039