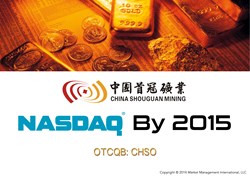 Mr. Zhang said, "Gold is an eternal business. China's demand for gold is stronger than ever."
Shenzhen, China (PRWEB) January 15, 2014
China Shouguan Mining Corporation (OTCQB: CHSO) has released an aggressive investor presentation laying out their plans for reaching NASDAQ by 2015. The investor presentation is being made available both on their website and can be downloaded here: http://www.chinashouguan.com/about/company/
The Company, which was the first Chinese gold mining company to be listed on a U.S. exchange, has had the uplifting in the planning stages for over a year. The South China Morning Post (12/13/13) first revealed how China Shouguan is planning to buy gold mines in Australia, North America and Southeast Asia so that it can raise its gold ore resources to 100 tons from its current 40 tons.
Mr. Zhang said, "Gold is an eternal business. China's demand for gold is stronger than ever. We expect to uplift top NASDAQ by expanding our operations China and acquiring mines in Australia, N. America and S.E. Asia."
In addition to their gold assets, Zhang said, "We will be adding to our portfolio of long-lived assets, silver, copper, zinc and Molybdenum, which is a key ingredient in making steel strong and corrosion resistant. Molybdenum is a high demand product in China. As the country keeps building power plants, turbine engines, offshore drilling rigs and turbine engines, our sales will grow.
"We have the resources and backing to buy additional under performing mines, both in China and overseas. With our expertise and technological edge, we can deliver profits where other mining companies can't."
About China Shouguan Mining Corporation
China Shouguan Mining Corporation is a highly efficient gold mining exploration and development Company in the gold rich zones of Shandong and HeiLongJiang Provinces in China. The Company acquires or leases under-performing mines in major mineral zones, then funds their expanded exploration and production utilizing industry leading technologies. China Shouguan is planning to acquire mining operations in Australia, N. America and SE Asia and is focused on uplifting to NASDAQ by 2015.
Website: http://www.chinashouguan.com
For more information, please contact:
Christian Tedrow, Market Management International.
Phone: 407-921-7032 Email: info@marketmgt.com
Safe Harbor Statement This release includes forward-looking statements, which are based on certain assumptions and reflects management's current expectations. These forward-looking statements are subject to a number of risks and uncertainties that could cause actual results or events to differ materially from current expectations. Some of these factors include: general global economic conditions; general industry and market conditions, sector changes and growth rates; uncertainty as to whether our strategies and business plans will yield the expected benefits; increasing competition; availability and cost of capital; the ability to identify and develop and achieve commercial success; the level of expenditures necessary to maintain and improve the quality of services; changes in the economy; changes in laws and regulations, including codes and standards, intellectual property rights, and tax matters; or other matters not anticipated; our ability to secure and maintain strategic relationships and distribution agreements. The Company disclaims any intention or obligation to update or revise any forward-looking statements, whether as a result of new information, future events or otherwise.